Canada and Grayling
---
---
Our annual pilgrimage to Canada was a great success. We started on the Bow river in Calgary catching "bullet bows" without doubt the hardest fighting rainbow trout on the planet with my trusted guide and friend Blair. I finished with 24 hard fighting bows and tired arms. We were literal riders on the storm as we were literally chased off the river by a very aggressive electrical storm. Waving conductors around on water is not the greatest idea in these circumstances. Blair did an amazing job rowing downstream through shallow riffles to keep us at a reasonable distance from the lightening.
---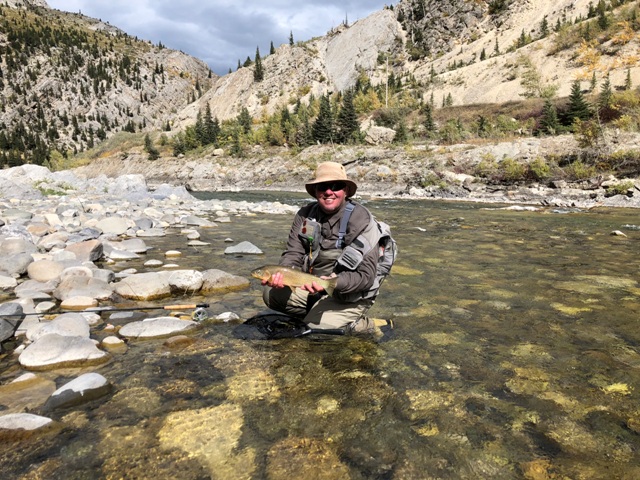 ---
Then we fished in the gap (above) on the Oldman river in the Rockies during a Blue winged Olive hatch. Finally after a couple of years trying I have managed to get an image of one of these bugs that seem to excite the native cutthroat trout. It is a small bug 18-22 but they were easy to catch on size 16's and 18's (match the hatch olives) and we used the soft hackle dry and Life jacket light caddis ( a good imitation of the October caddis) as search and find patterns. Cutthroat trout are so free rising that a village idiot will often betray their presence.
---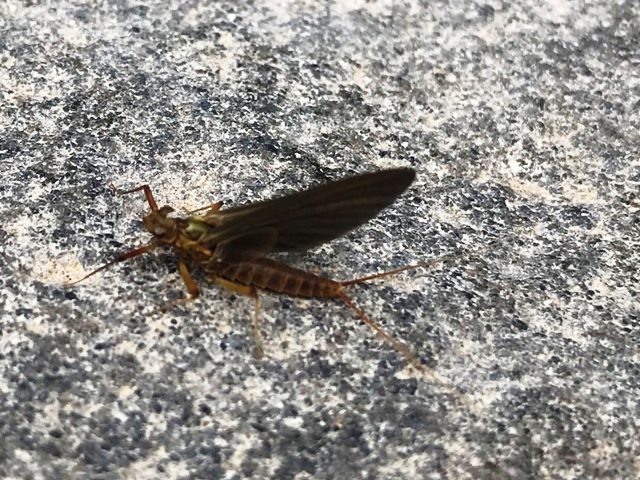 ---
Cutthroat trout are more gregarious than brownies so will often group together. Oddly one of their own brethren hooked and played through them does not cause alarm and you can cast and catch most in a group before they become very skittish. And they rise so slowly and deliberately to your dry fly that their naivety almost makes you cry.
---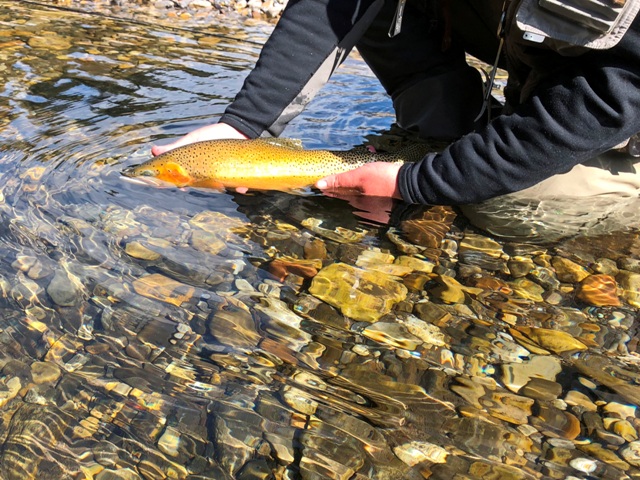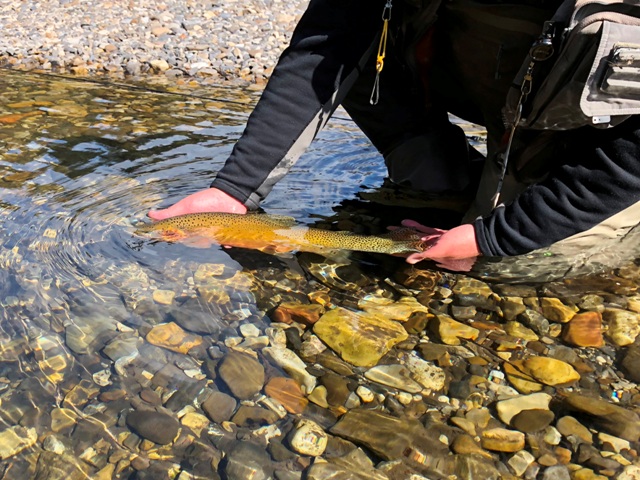 ---
Hard fighting they are not but you need a decent 5 weight to get them in quickly. They live in fast flowing streams and can average between 2-3 lbs on better rivers. One of those was the blue ribbon stream the Elk in British Columbia. One thing about big cutthroats is their beauty. They are simply awesome trout and should be on every wild trout enthusiasts bucket list.
---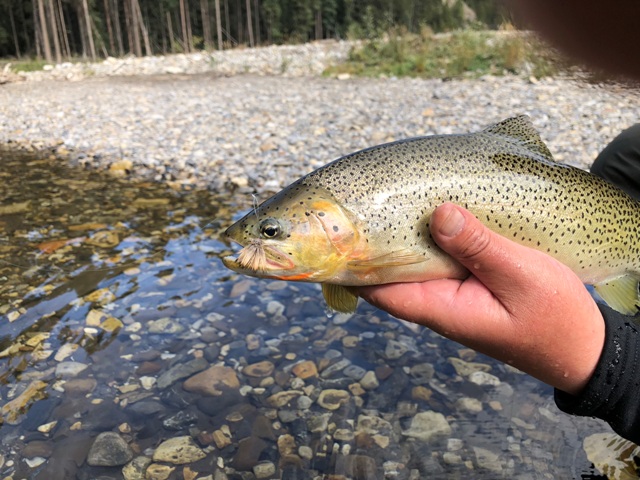 ---
Our catching flies were the usual onstream-guide favourites. The black magic nymph suspended under a life jacket and the UV flash caddis nymphs were killers wherever we fished for all species including bull trout, Rocky mountain whitefish, rainbow trout, redband rainbow trout and of course the aforementioned cutthroats. The most unusual catch of the trip was this bull trout in spawning colours that snaffled a soft hackle dry fly instead of the usual streamers or nymphs.. A fitting last fish for the trip!
---
---
Nothing says autumn has arrived more than the colours in a good grayling. This time of year is always tinged with sadness for me personally as we say goodbye to the trout season. But the thought of grayling especially specimen ones is some sort of compensation. Myself and Fred Bainbridge will be running one day workshops on various Northern rivers during October, November and December. I will update when venues and dates are finalised along with itineraries.
---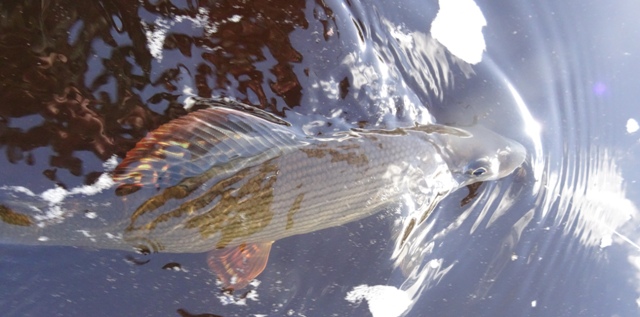 ---
As a subscriber offer I can offer this grayling selection box – 31 superb catching grayling flies from dries to heavy winter nymphs all on barbless hooks by myself a triple England Rivers International for only £35. It includes the most successful all round flies for graylng which retail at over £50 without the fly box. This selection will be on sale on the website for £49 in the near future.
---
---
It includes "f" terrestrials (great imitation of willow fly and leaf fall bugs), the Griffiths gnat (grayling love this fly) in 16, 18 and 20. Emergers- give grayling something to aim at! Pale watery soft hackle dries with a pale CDC wing, Lifejacket light caddis as duo for small nymphs like the hares ear and finally beaded flies for the euro nymphing techniques we use in Winter. Simply contact me at the website with grayling offer in the subject box and I will send you an invoice for £35 plus £2.50 postage and packing.
---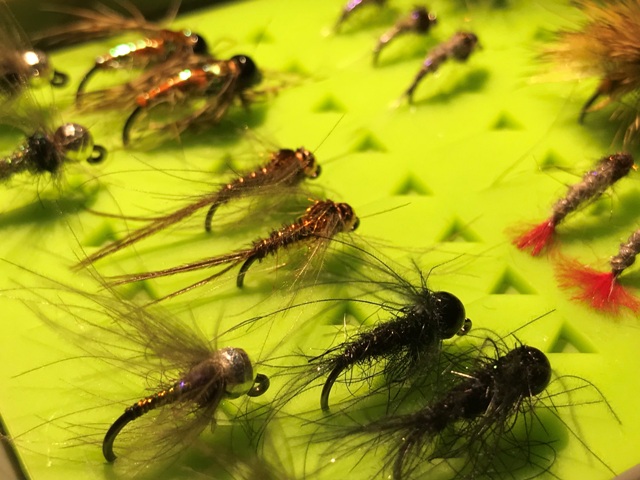 ---
Other new flies just introduced on the website include the polyphaetis with both copper beads and in a barbless version. The poly remains one of my best flies for specimen fish like this 3lb plus beast from the River Teviot. Happy hunting for the ladies!
---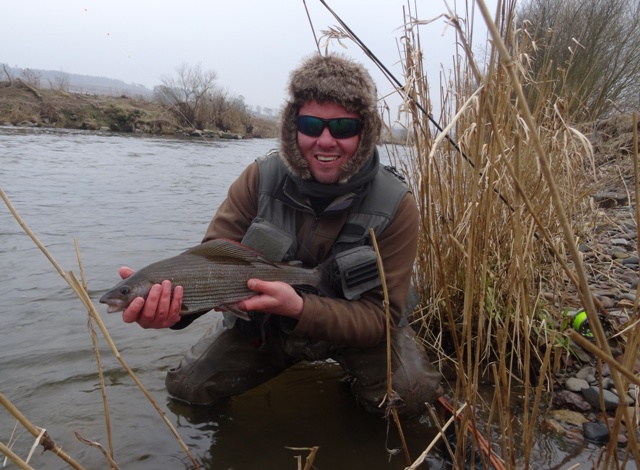 ---
Regards,
Jonathan.
---