Christmas Offers
---
---
Winter colour!
---
---
This time last year we ran our specimen grayling workshop on the river Teviot. We landed some beautiful specimen fish to 2lb 10 ounces. Never mind next year I will run the specimen grayling workshop again. I hope many of you are still able to get out and fly fish. Weather and conditions are always tough in Winter and you need to choose your expeditions carefully to account for this. If you want to book a day with me to learn how to grayling fish my day rates are only £125 in Winter. I am a qualified Sport England level 2 game angling coach and a triple England Rivers International.

So far more restricted to the tying vice than normal I have some amazing Christmas fly box deals, a perfect gift for the fly fisher in your life. These flies are not mass tied they are tied by me. These are restricted offers available to subscribers and very limited (2-3 of each only). You will receive 36 Onstream-guide classics in either a Fulling mill fly box (lifejackets) or a slim vision fly box (nymphs) for only £50 plus £2.50 P and P.
---
---
36 black magic nymphs in size 12, 14 and 16 (dozen each). The ultimate high contrast nymph and even regularly used by my good friend Fred Bainbridge who I consider one of the best French nymphers on the entire planet. If I was a one pattern nymph fisher then this one would probably be the pattern I would choose. Black is just an edible colour to a fish and combined with elusive movement from that highly motile CDC it's just irresistible. Only 2 available. Text Black magic nymph box offer in an e-mail to me.
---
---
36 euronymphs including RBS, UV flash caddis, red 5 nymph, Polyphaetus, black magic nymph and glint nymph. Euronymphing has become the go to method of many professional fly fishers and for good reason. The flies get to the fish in the most direct way possible. Euronymphs are dense and heavy designed with tungsten beads. This is a selection I've developed after more than 30 years fishing these techniques. Text euronymph box offer in an e-mail to me. Only 2 available. Also see Nymphing kit offer below.
---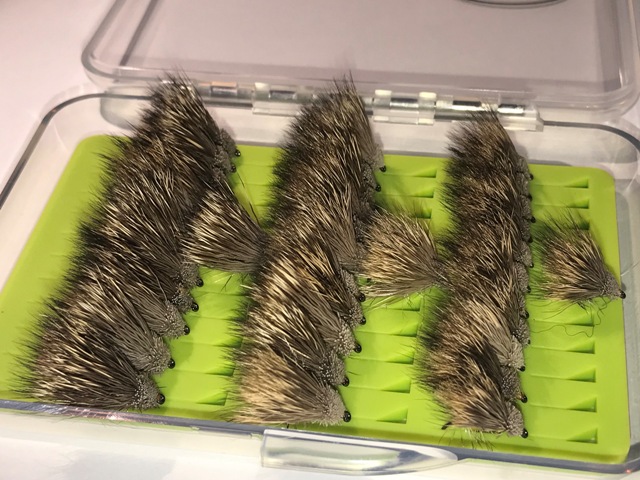 ---
As an indicator that catches fish the ultimate fly has to be the lifejacket Elk Hair caddis. Capable of pulling fish up on its own right it excels when used to fish nymphs at distance from the fly fisher in a technique often called klink and dink or duo. I have many examples of fishing this on You Tube. The combination of high quality Elk, Doug Swishers Ghekko hair dubbing (super waterproof) and a Tiemco aerowing underbody makes this fly unsinkable in most situations.

Used by the brilliant John Tyzack/ Fred Bainbridge and many other top anglers. Tied on Japanese heavyweight Maruto dry fly hooks. 12 standard Lifejackets on size12's, 12 Light style on size 12 and 12 Lifejacket Lights on size 14 hooks. In a high clearance but small and neat Fulling Mill fly box. E- mail Lifejacketboxoffer. 3 available.
---
---
For nymph fishers I have this French leader kit including 12.75 metre Jan Siman Nymph leader with built in drop indicator, a superlight furled bicolour indicator,, bicolour strike indicator and round profile titanium tippet rings. With this kit you can produce your own bespoke indicators to your requirements. £15 plus £2.50. E-mail nymphing kit offer.
---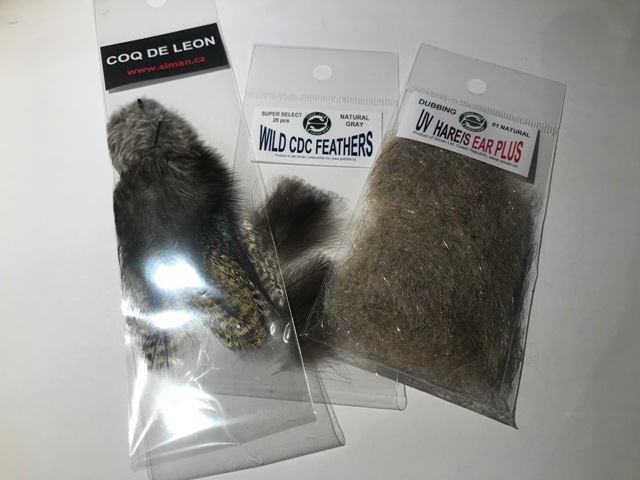 ---
For fly tiers and many of you may be restricted and be forced to stay inside I have this great offer. UV hares ear, Coq-de Leon and select wild CdC for only £10 plus £2.50 p and p.

Have a great Christmas and I hope you can get out with the French leader over the coming weeks.

Regards,

Jonathan.
---