Fly Fair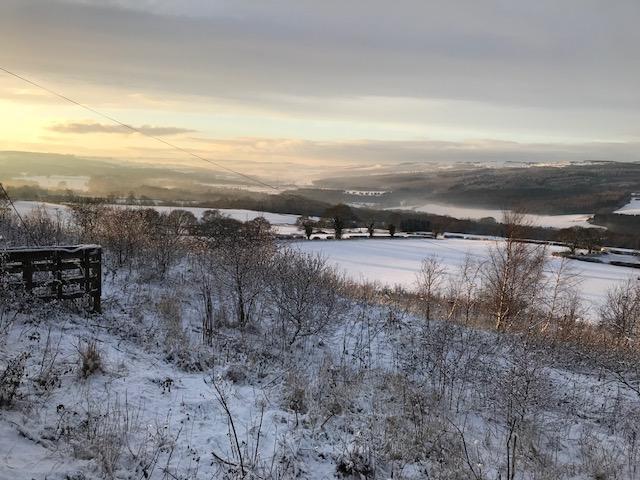 The Derwent Valley in Winter
---
Winter is always tough and this one particularly so for me going down to the dreaded flu and then a muscle tear in the lower back. Things are improving and the days are visibly lengthening. On 9th January I gave a talk to Salmon & Trout Conservation UK on wild brown trout my favourite species on the planet. Linnaeus, the Swedish naturalist, gave the brown trout it's very definitive Latin name Salmo trutta (literally the Salmon trout). He was of course referring to a Sea Trout. This is just one of the many forms or morphs of the brown trout. In fact Linnaeus identified several other Trout species which modern science via genetics now tells us are all in fact Salmo trutta. It was an easy mistake even for a genius like Linnaeus to make. How could that big silver Salmon trout be in any way related to that 8 inch adult brown trout from an acidic moorland stream? Linnaeus did not know he was looking at the most polymorphic vertebrate on the planet with incredible adaptive abilities. The reality is that 8 inch trout and that 14 lb silver tourist (that could swallow its mate without thinking) can and do breed together because biologically they are the same species! My admiration of the brown trout started early (below)
---
---
My own observations of the amazing adaptability of wild brown trout was in 2008 when I fished for Wild browns in the Himalayas, specifically in Kashmir. I was so keen even the threat of "bandits" (Taliban militants) did not put me off. With a party of thousands (2 Land Rovers worth) we launched an expedition to the River Liddle, a glacier stream. We arrived after several hours on rough roads and I was shocked that this pretty stream I'd seen on the photographs was in reality a filthy torrent of chocolate. Overnight the altitude and accompanying temperature drop did the trick and in the morning I caught some fantastic browns in postcard Himalayan scenery. During the day as it heated up from sub zero to around 25 Celsius, the river rose and was unfishable by about 3 o'clock in the afternoon. This cycle of falling and rising snow melt water from the peaks occurred all Summer long. The Brown Trout were introduced by the ingenious British so Gentlemen could enjoy their Sport in the colonies.
---
---
According to the local fisheries Officer appointed by the Indian Government who accompanies you for the whole day when you book a beat (British bureaucracy at its very best) there were native fish BEFORE the brownies where introduced. In this sense the brown trout is an invasive species and due to its leopard like predatory behaviour probably heavily diminished any indigenous species. The trout came from eggs From Loch Leven an environment that bears no relationship whatsoever to a Himalayan glacier stream. The brown trout of course adapted to this without any problem whatsoever and the brownies were large and plentiful for a stream of this nature. The talk was well received.
---
---
This year I will again be attending the British Fly Fair (10th and 11th February)and will look forward to seeing many of you. I will be demonstrating among other things rock treads. These are the answer for those of who require more purchase on slimy rocks typically encountered in Freestone rivers. They will even convert an unsuitable sole (like rubber) into a great river boot. The principle is simple. Aluminium discs act like Octopus suckers. Come along for pre-orders and or a demonstration. Anything that prevents me acting as a swimming instructor is a good thing! I have some great offers as well and feel obliged to offer the same to E-zine readers who might not be able to make the Fly fair. All hooks(25) and Tungsten beads (25) are £2.50 all sizes and types. I also have the new Hends BL124 available in size 12 and 14. This is a very strong incurve barbless jig. I have found it near infallible. The size 12 is excellent for mini streamers like the onstream-guide TNT streamers. The 14 is excellent for point nymph patterns. Again these are £2.50 if you order them as part of this offer. I have some very nice glossy black 3.3 mm that I will include if you ask me for them. I will invoice you if you send me a list of hooks/tungsten beads you want for £2.50 per item (subject to availability). I like the Fly fair because it means the days are lengthening. My beloved wild trout will be soon be stirring from their Winter slumber.
---
---
Regards,
Jonathan.
---