New waters and new flies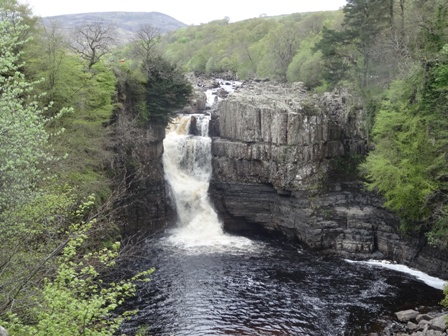 Stunning home water- The Tees
In the United Kingdom we are blessed with a myriad of twisting streams and rivers which are maintained by our damp and mild climate. The upshot is that we have literally hundreds of miles of trout streams. Short term changes in rainfall patterns have a big impact on these trout streams. After a winter where many rivers were barely within their banks many of our dales rivers have now been starved of any meaningful rainfall for several weeks. The ever adaptable brown trout takes all this in its stride but for fly fishers catching wild trout in clear low conditions is never easy. I fished the Angling Trust Northern Federation Qualifier on the Ure on the 24th April. I finished first in the afternoon session with only 2 wild trout. Out of a field of 18 (generally professionals/guides/International anglers), only 8 caught trout which illustrates just how tough conditions can be on low crystal clear dales rivers.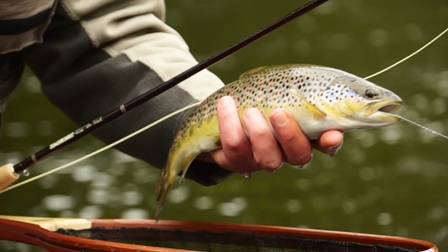 The ever adaptable brown trout isn't merely a sweeping generalisation but an observation based on years of experience and study of Salmo trutta. I fished the Himalayas in Kashmir for brown trout originally stocked by the British in the days of the Empire. This in itself is an amazing anecdote within an anecdote. Before the days of refrigeration and powered ships the British took their love of fly fishing with them by packing viable brown trout eggs (from Loch Leven) into wet moss stuffed into coopers barrels. They then seeded rivers as they wished # spoiler invasive species! The river Liddle in Kashmir is a glacier stream. On a summers day snow melt from the peaks turns it into a dangerous raging chocolate torrent as it rises over a metre. In the night freezing high altitude temperatures lock away that water and the river becomes a pretty fishable trout stream....at least for a few hours in the morning. The brown trout adapts to and thrives in these conditions. What about the rivers that dried up after this stocking? Salmo trutta has a unique ability of following the river to the sea, if required and becoming a sea trout. When the river again is alive with water the sea trout will run and spawn. Its offspring can be both brown and sea trout and a dry river reseeded. The next time you catch a wild brown trout give it the respect it truly deserves. It is a remarkable creature perfectly adapted to its tough environment.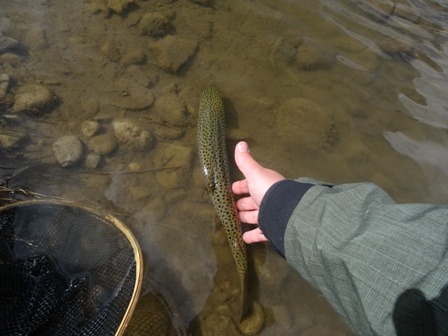 A stunning river Aire trout released
On the 14th May we were invited guests of Bradford and City Angling Club for their open day on the river Aire at Gargrave. Typically the river was low and clear and the fishing hard as nails in bright conditions. Nevertheless we managed a few fish and a great day was had by all. This was new water to me and gave an opportunity to sight fish to trout which can be both exciting and frustrating in equal measures. I fished a perdigon (Spanish nymph) under the Elk Hair lifejacket light caddis. The perdigons were gifts from an angler now based in Spain. They are excellent for use as a duo nymph because they sink rapidly to the required fishing depth. It was possible to see trout turn and follow these nymphs downstream ....which then they either accepted or refused. The river Aire is an excellent testing trout stream but with big rewards. On the club day fly competition on 4th June I managed a lump of 44 cm. In ultra low testing conditions I was delighted with this.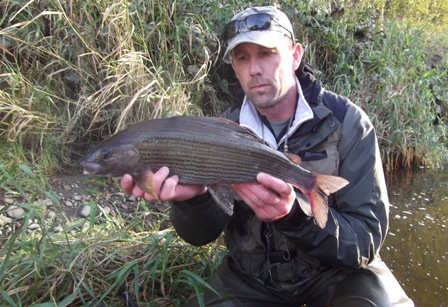 Fred Bainbridge on the Ure
I have been fishing elsewhere with the renowned Fred Bainbridge on the Skell (which might rate as the ultimate urban stream in Yorkshire). Hold your horses though fishing for residents and invited guests. Variety is the spice of life and fishing new waters expands the horizons which is no bad thing. Every variety of trout stream is different rather like their inhabitants. For example trout on the Tees are generally dark with large red spots whereas on the adjacent river Eden the trout is lighter or even butter gold with much finer red spots. This genetic variability is quite clear for experienced river anglers and feeds our love and appreciation for wild trout. In our latest You Tube video on Mayfly techniques I emphasise just why we should respect these remarkable fish.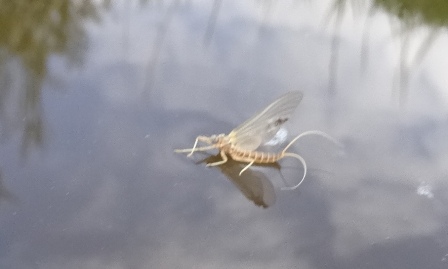 Typical medium sized Mayfly
In the same video we demonstrate this quill bodied nymph to represent small to medium mayfly sized species. The Polish hand stripped quill adds a superb segmentation effect to the nymph, which obviously borrows from the aforementioned perdigon. We have found this nymph to be successful wherever we have fished it and it has worked particularly well as a duo nymph. The exclusive subscriber step by step tying instruction is here. Summer is officially upon us and a time of haymaking for wild trout begins. As Fly fishers we can fish in little more than a shirt and enjoy roaming a variety of venues in search of that elusive, wily brown trout. In addition later this month we can also target the Lady of the Stream the grayling. A short but appreciated embarrassment of riches for a few months. We hope you make the most of it. See you on the river soon. Best wishes, Jonathan and Nellie.