River Fly Fishing Method Developments
River fly fishing has undergone many developments since its inception. Modern Fly fishing began on the Chalk streams of England about 220 years ago although there are accounts of people catching fish in a river on a feather as early as 200 AD in Epirus now part of modern Greece. Early rods were made of wood (no bad thing say wooden rod fans) but were heavy and cumbersome. Early fly lines were made of silk. I own a silk fly line and this is a wonderful thing! Fly fishing was upstream dry fly only....my idea of Utopia. So the old days weren't that bad were they? No, but modern carbon rods being stiff long and light and "easy use" plastic lines have revolutionised the sport making it widely available across the globe. But this revolution was over 30 years ago. What of now?
Recent developments in fly fishing are developments in the methods themselves as seen on our latest You Tube Video River Fly fishing Methods. Here we compare and contrast two methods of fishing nymphs. Upstream under an indicator and Czech nymphing or so called European style nymphing (better regarded as contact nymphing). These techniques are superficially the same i.e. presenting a subsurface fly to feeding trout/grayling. But in reality these techniques are quite different. Under an indicator the sub surface weighted flies are pulled by the indicator at different speeds under different conditions. Usually the flies move "faster" than natural ones, although they might imitate natural nymphs swimming to the river surface. This can act to induce takes if fish are active and chasing food items. It is a very effective method and works even in skinny water or slower moving parts of the pool. However, some current is of course necessary for any river nymphing technique. The On-stream guide pheasant tails (Sep by step here) and hares ears are excellent patterns for this technique. The indicator (float) in this method acts to support the weight of the nymphs (small) and indicate if a fish takes them.

However with European style nymphing techniques we usually fish the flies deeper and slower. In fact my belief is"the slower the better" when Czech or French nymphing. In this case the flies are designed to fish slowly on and near the bottom. Here they might resemble benthic (on the bottom) food items like caddis that might move between rocks and gravel on the riverbed. The point fly I generally use on a Czech or French Nymphing rig is the reliable Polyphaetis that has landed many fish over the years. My personal preference is for the gold headed Tungsten beaded version but the black beaded version is equally effective. There is a step by step for this pattern here for those who might be interested. On the middle dropper I will usually fish a size 14 black magic (3mm Tungsten bead) or a flash back Caddis (3mm or 4mm tungsten beads). The weight of the flies in this technique is critical. The flies should reach the bottom quite quickly (3-4 seconds) but then trundle along or tickle it (not hang up like an anchor!). The depth should be at least 2 feet and better is around 3 feet or more. The river bed should be gravel or a mixture of gravel and boulders as in the video. A good low stretch nymphing leader is essential for this technique. The indicator in this method is an "in-line" indicator and does not act as a support for the flies but is simply a visual sighter that might dip or stop if a fish takes the fly.

Another "new" method is Tenkara even if it is only new to us here in the West, having been employed in Japan for centuries. This method is fast becoming a favourite of my wife Nellie also the You Tube camera girl. On her first trial she landed a fantastic wild Tees trout of around 2lb's in weight and quickly added more.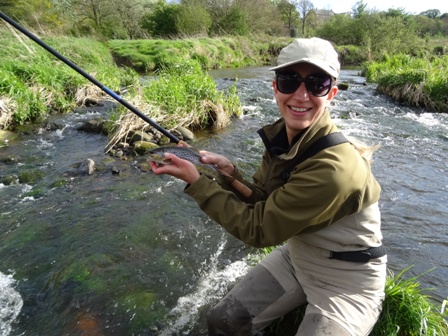 The Tenkara outfit I use in the Fly Fishing methods video will soon be available at Onstream-guide. Despite the tough breezy conditions the Tenkara furled leader system ( a 2 stage one using a butt section of 7 feet and a choice of leader -either 5 and a half feet or seven feet with tippet ring) worked superbly and enabled me to quickly get the fly across a fast current of water over the far side where a fish quickly took the Lifejacket caddis. Of course in the video a token fish rose to a natural fly and this was targeted using the ever reliable and ancient method of upstream dry fly. Fly fishing method developments will continue over the next few decades. It is an exciting time to be involved in river fly fishing.

Best Wishes to you all,

Jonathan and Nellie.