Tenkara
The most simplistic image of fishing is that of a young boy with a cane pole with a piece of string tied on the tip and a bent pin. Tenkara takes us back to this pure simplicity but don't let this fool you, behind this apparent simplicity lies a beautiful form of fly fishing where presentation of the fly is paramount. Tenkara is a Japanese form of fly fishing and literally translates as "from the skies". Early forms of Tenkara used long bamboo poles and furled horsehair leaders very close to our archetypal boy with a stick, string and bent pin. In developing our Onstream-guide Tenkara system we have retained some of the traditional elements namely the furled leader (akin to the piece of string/horsehair) but embraced new technology, namely the latest generation of nano carbon which means rods are both stronger and lighter. This is a boon because carrying a thirteen foot bamboo pole all day long on the river would require Herculean strength and would be beyond most of us.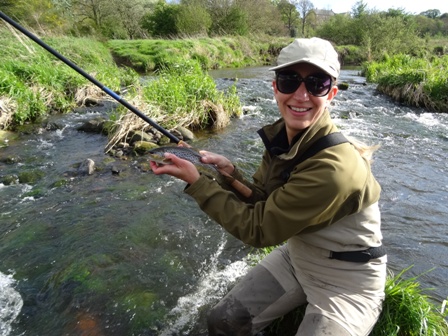 Our aim was to develop a system suitable for larger rivers and fish. I started using Tenkara several years ago and always felt slightly under gunned. It was OK for smaller fish and smaller streams but after losing better quality fish on larger rivers I became disheartened. It was also difficult to use in any wind. We are happy to report we use the Onstream-guide Tenkara system for most trout and grayling in all types of moving water and most weather conditions. During the research and development period Nellie has become an expert practitioner. The anecdote below demonstrates this. We had a trip to the stunning upper Tees where we filmed some upstream techniques including spiders, dry flies and nymphs. Nellie was keen to try the Tenkara outfit using the duo technique. After only a minute I heard a "yes" and she was attached to a lively 10 inch brown which she duly landed. 5 minutes later a shrill scream alerted me to another fish. This left the water and was clearly much bigger. This was the first real test of the Tenkara outfit. Nellie stuck to her guns. The Tees although beautiful is often somewhere between difficult and lethal in terms of wading so following the fish as advised by some Tenkara experts was simply not an option. The rod buckled violently, Nellie holding on with both hands as I watched through gritted teeth fearing the worse. However the furled leader acting as a shock absorber coupled with the progressive rod action prevented the trout's escape attempts and after only a minute Nellie netted it. It was her biggest landed trout to date although she has hooked and lost larger fish on Western style outfits due to relative inexperience. This in itself spoke volumes. In the course of the coming months Nellie has proved this was no fluke and has landed many good trout on the outfit.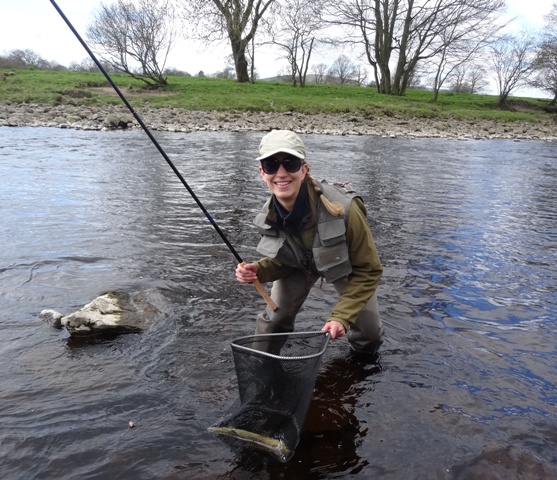 Tenkara not only offers an engaging alternative to Western style fly fishing it can offer definite advantages at least with a relatively robust outfit like the Onstream-guide one. For example Czech nymphing can be achieved at longer range and with much longer drifts. Inevitably this allows water to be covered more efficiently with less disturbance and naturally this leads to more landed fish. The Onstream-guide outfit utilises a two stage furled leader system. A 7 foot tapered butt section with either a 5 and a half foot or seven foot end section. The shorter of these is ideal for techniques like Czech and Polish nymphing. Even so because of the increased range the fly fisher is effectively having the range of French nymphing but under the close control afforded by Czech nymphing. The result is less spooked trout and more landed fish. It is perhaps in complex flows as demonstrated by our short video pocket water Tenkara that the technique really excels. Very often pockets of fish containing water on the far bank are neglected week in week out by fly fishers with Western outfits for fairly obvious reasons. Those ripping currents will cause even the best stack cast dry fly to pull downstream the seond it alights on the water. By allowing the line to be lifted over these currents at greater range using the 7 feet end section leader Tenkara allows enhanced drag free presentation often with instant results. And if it's a big fish then no problem...just hang on.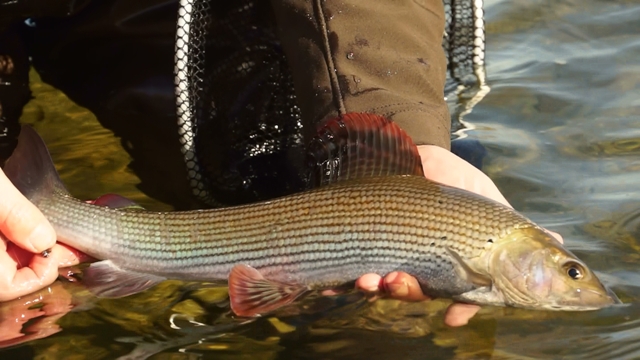 The Onstream-guide Tenkara outfit is finally here. Please see our updated Tenkara page for more details. Best wishes and we hope to see you on the river some time soon.

Jonathan and Nellie.