Onstream-guide You Tube presentations
---
I often get asked am I producing more You Tube presentations and the answer is always yes. Having passed my 50th birthday by a couple of years and piled on a few too many pounds due to a penchant for fine wine and good food I am now reticent because I look like a whale. This is enough to force me to clean up and shred the pounds for 2020. So the booze goes and only fresh cooked real food high in protein and fresh vegetables. And out again on the bike. I will look improved for the 2020 presentations.
---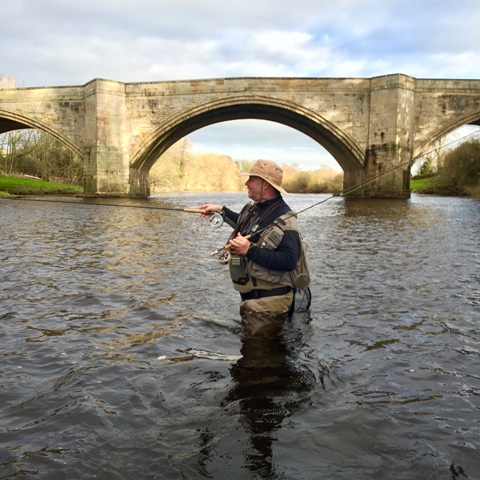 ---
A whale nymph fishing
---
A new presentation is available right now and features a typical early April day on the Tees on the exclusive Snow Hall water filmed 2019. Many thanks to John Bardon for his excellent camera work. Please hit the Like button as this helps the video reach a wider audience. In the very recent weather window at the beginning of December I was able to get out and do a bit of Winter dry fly fishing which is always welcome. The grayling were alternating between the uprights (olives/pale wateries) and black midge. The ever reliable soft hackle dry fly did the damage with the odd midge feeder preferring the "f" terrestrial or Griffiths gnats. These are really the only dry flies any winter grayling angler needs.
---
---
December Dry Fly grayling
---
Ever reliable nymphs for grayling are the onstream-guide black magic nymph or flashback on the dropper with a P and O silver beaded dynamic nymph on the point. It is likely many of us will fish high water conditions for grayling this Winter as the current wet spell appears to have settled in for good. The RBS nymph was developed for these conditions and has already been responsible for some specimen fish. As long as the water isn't carrying too much sediment grayling can still be caught. Find soft shimmering water 3-4 feet deep moving at walking pace over a gravel bottom and you should find grayling.

Myself a triple England Rivers International and former Rivers Champion and Fred Bainbridge (also a National Rivers Champion) are planning a series of workshops in January on the river Teviot targeting specimen grayling in the 50 plus cm bracket. Many of these fish exceed 3lb's in weight and represent a fish of a lifetime for the majority of fly fisherman. The cost will be £50 per person (not inclusive of permit available at £8). Please get in touch if you would like to attend and I can get the details out to you. Meanwhile enjoy the fly tying and grayling expeditions (weather permitting) and have a great Christmas. I will hope to see you again in 2020 in a slimmer trimmer version.
---
earlyseasondryfly
---
Regards,
Jonathan.
---