Dry Fly Fishing Versus Nymphing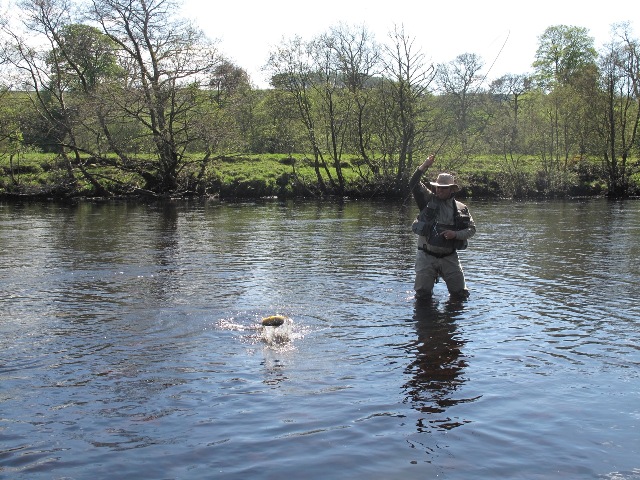 Lively early season Tees brown on a dry fly
---
Describing why anybody might like a particular brand or make of rod is easy! For example I often wax lyrical about the Sage Light Line 389 (3 weight 9 feet 9 inches) being a truly great progressive fly rod. It is the perfect tool for Britain's typical feisty wild stream brownies coming in at 8-12 inches and manages fine if something around 18 inches or bigger comes in. They say that rod action is personal preference but I think a progressive rod is the correct tool for river work. I started on Sage's premium fast tippy range and later in their opinion probably downgraded to a much slower (not true all carbon rods are fast), more relaxed rod designed for fans of bamboo rods. It is an excellent casting rod and as a guide I can give this to most clients with an array of casting faults typically a wide loop caused by wrist break on the back cast. The rod is so forgiving that if they wave it in the right direction the fly goes in the right direction. By eliminating these faults we get increased accuracy and precision and that comes ultimately from loading and unloading a deep bending progressive rod as bamboo rod aficionados will testify. This increased feel correlates to increased control and ultimately successful dry fly angling in a stream is about control. Its natural conclusion is that your dry fly follows that foam line next to that current rip with perfect precision for several seconds. This is normally enough for any resident trout to show an interest. A furled leader and relatively short tippet with a soft hackle dry is the method I use to achieve this, the antithesis of almost all other competition anglers who use long mono leaders. My latest You Tube clip demonstrates my efficiency with this set up after years of practice. It is a technique that has served me well on the competition scene and helped me get back into the 2018 England Rivers team as reserve after success Team silver in 2017.
---
---
A specimen Teviot Grayling caught on a trio outfit- 2 nymphs suspended underneath the life Jacket Caddis (now back on sale)
---
My personal preference is for top of the water techniques and I'd much rather use a trio outfit on a light fly line set up for specimen grayling (picture) than use the more reliable French Leader. But competition angling if anything teaches you over specialisation in any technique can be limiting. My interest in fishing French leaders has never wavered over the years BUT I have to leave the Sage 389 in the car otherwise I will stray back onto those addictive dry flies, instead of concentrating on those often more successful nymphing techniques. The good news is that our new Dynamic nymphing range of flies is now available. Developing these nymphs has made me work hard to improve my nymphing skills. The flies have been superb and work in a variety of conditions and types of rivers. The RBS is particularly good in coloured water and the UV caddis is great all round especially on the swing and lift. It can be twitched enticingly and this often brings a rod buckling take. The hooks used feature a sharp incurve jig (Hends 124 now on the site) which greatly increases the conversion rate. We also have a range of nymphing indicators and will be stocking French leaders again very soon.
---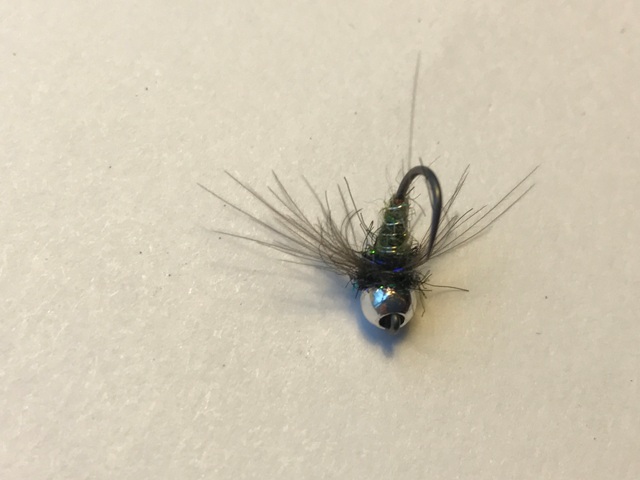 ---
Part of our new dynamic nymphing range the UV flash Caddis. It features a UV materials and an alluring light CdC collar to add movement.
---
On the 16th and 17th September I will be overlooking a fly fishing weekend at Leekworth Caravan Park (www.caravancampingteesdale.co.uk) contact Robin in charge if you are interested in attending. Last years' event was a great success and prior booking will be required. The format is a mornings fly tying and a few demonstrations of different techniques if conditions allow. Last year I was lucky and caught fish in all the demonstrations despite the audience. After that I am 10 days in British Colombia, Canada doing a bit of guiding but hopefully producing a new DVD- A half dozen sub surface flies! This will feature onstream-guide classics like the black magic nymph, but also the TNT range of mini streamers! Expect to see a smashing response from the wild bows, cut throats and small bull trout.
---
---
---