Euphoria!
---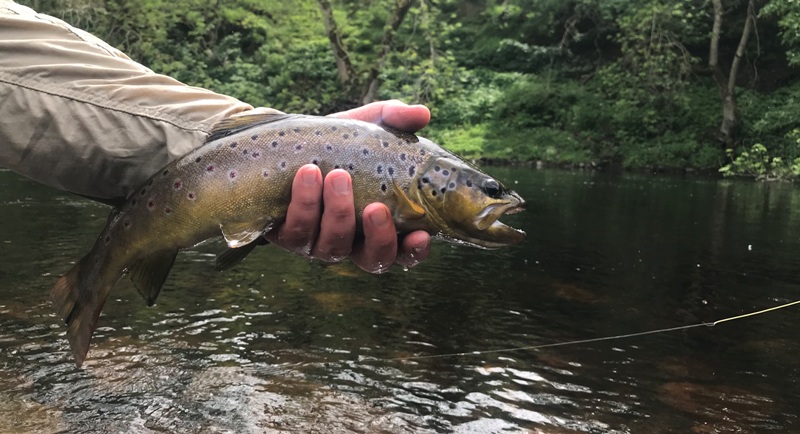 ---
Wild Brownies, rising to well presented dry flies like this one from the Tees yesterday.
---
These are the days that dry fly fishers dream of! Meaning the days of May and June when Salmo trutta AKA the brown trout will rise freely in many dales rivers. I will be honest my dry fly range isn't particularly large when the fish are still relatively naive and feed on a catholic range of surface items from black midge to the larger mayfly species, caddis flies and midge. Generally I will have the ultimate "bringer upper" the soft hackle dry on my tippet- and if that fails (which is seldom when presented correctly) I'll go for a Griffiths Gnat. That means I'll get 90% plus visible rising fish to the fly plus many bonus ones that I will lift to the fly. Our aquatic leopard the brown trout is after all an opportunistic predator and if you give the beast an opportunity he might just take it. And on a rare pleasure session on the upper Tees yesterday, I hit the jackpot. With the river in good shape and nicely fined down, good hatches of pale wateries (natural soft hackle dries!) I landed over 50 browns in a few hours fishing on the great river Tees.
---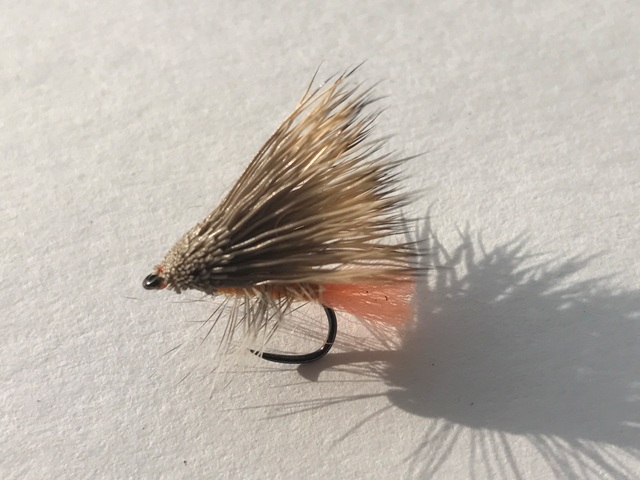 ---
The good news is the much requested Lifejackets (standard and lights) are now back in stock. The sad news is we will soon be saying goodbye to all the Onstream-guide flies that feature golden plover feathers including the plover nymph, plover spider and rainbow nymph. I know many of you rate these flies very highly as I do, so if you need a restock I suggest doing so soon (size16 plover spiders are already out of stock). The historic stock of Golden Plover is almost finished and it is now impossible or stupidly expensive to obtain. I am not prepared to go onto the black market. I have great spiders on Heavy weight 14's, plover nymphs and rainbow nymphs that may last this season but after that they sadly will be consigned to history (excepting guided clients).
---
---
My local stream that I overlook here at Riverview, the Derwent has come alive. My favourite method and the highest percentage in terms of catch rate remains duo in the pockets and my favourite combination is the Lifejacket light and size 16 black magic nymph. The black magic nymph when it works is simply fantastic because it looks like a black piece of "merde". Trout's stomachs are typically full of this black excrement! Of course it offers maximum contrast and has added UV material appeal! From the trout's perspective what is there not to like? To the point I've tested the black magic against much more intricate patterns like superb slim profile perdigones and realistic patterns and the results are the black magic wins hands down. I fished this Duo system floating the Bow river in Calgary, Canada. I was so efficient at extracting fish on the black magic nymph that when one of the locals asked my superb Guide and boatman Blair on the Bow river, what the fish were taking he simply replied, "black magics!".
---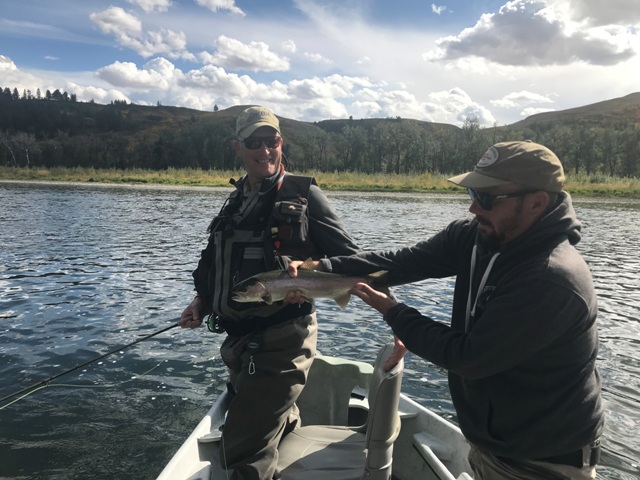 Blair with a Bow river "bullet bow"
---
Ok some of you may be screaming you can only get 90% of visible rising fish what about the other 10 %? Ok I will admit I cannot get every single rising fish to take a fly- nobody can. But my next option after a soft hackle dry and a Griffiths gnat will be an onstream-guide emerger. I have taken on board some of your feedback and made the CDC wing thicker and longer. I tested this on the Tees and had to take it off the tippet because of the number of out of season grayling desperate to take it. After that you are down to less than 5% of rising fish that will not take your fly. Time and experience has taught me you can probably catch these fish once you find the trigger BUT you are much better off finding more rising fish and tipping your hat to the occasional tricky fish.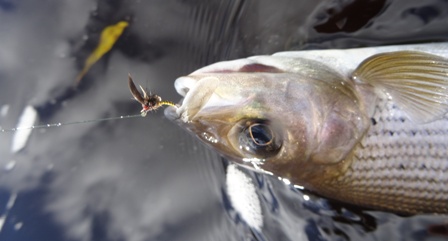 I hope you all find opportunity to get out and make the most of the next few weeks when conditions are still excellent for the river Fly fisher. Please get in touch if you would like to be guided in pristine surroundings for wild trout and grayling.

Regards,

Jonathan.
---