Grayling special
---
---
Grayling independent of their actual sex are often referred to as the lady of the stream and on reflection this is a good description. Like our opposite sex (from a male perspective I know there are female fly fishers who read this but please don't take this as an insult) they can be a bit of an enigma. Certainly they are when it comes to fly or at least nymph choice. Regarding dry flies an emerger, a soft hackle dry, a Griffiths gnat and an "f" terrestrial has hooked every grayling I have ever cast a fly at. But sub surface they can get very particular and selective. I know this from repeated observation. With this in mind I present a half dozen of my top secret catching grayling nymphs and the logic and story behind their development. These beaded nymphs are available exclusively to subscribers and tied by yours truly.
---
---
A small female river Teviot grayling
---
Small, slim profile and heavy (tungsten beaded) with hotspots are typical grayling nymphs that adjourn many keen grayling anglers fly boxes. To my mind although these rows of idiosyncratic nymphs with their slight differences in hotspot colours or with a small flashback look fantastic they are still basically the same pattern. So incorporating the small but dense philosophy I have developed these great fish catching nymphs that have extra grayling appeal and they are also different!
---
---
My top secret half dozen grayling nymphs
---
These nymphs are from 12 o'clock the ace of spades nymph. On an incurve 124 barbless size 14 with a 4.3 mm slotted plain nickel black bead. Not only designed to get to the river bed quickly it does an excellent job of imitating the dark stoneflies and takes many grayling as a point fly. Orange beaded olive nymph. This is a florescent orange tungsten bead and on salmon rivers I'm certain this gets taken as an egg. Tied on a heavyweight Maruto 14 (a great holding pattern used for the now World famous Soft Hackle Dry Fly) it is a great dropper nymph. The raspberry ripple nymph at 3 o'clock is tied with a 3mm slotted copper faceted bead on a HW Maruto 14. This nymph has been responsible for my largest grayling in 2019 a 2 lb 12 ounce 51cm specimen on hard fished water. The rainbow pinkie nymph imitates "pinkie" maggots used by bait anglers. Tied on a 3mm rainbow tungsten bead and unashamedly shocking pink. Pink is a kill or cure colour for grayling and therefore will illicit either an aggressive response or leave every grayling in the pool bolting in terror. I have had many double figure sessions with grayling taking this nymph exclusively. The olive red tag is tied on a 3mm tungsten slotted silver diamond faceted bead and a size 14 B124. Red tags are a classic for attracting grayling and this nymph is no different. Finally another classic is the silver beaded killer bug. On a 3.8 mm diamond faceted silver bead, size14 120 and tied with the original killer bug yarn. This is the perfect small dense cased caddis pattern and is a great catching point fly. To purchase these superb dozen nymphs for £20 plus £2.50 p and p just e-mail me with grayling special in the subject and I'll invoice you.
---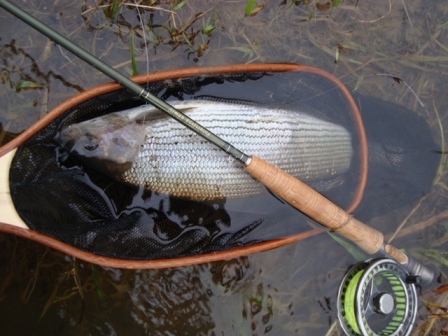 ---
Regarding upcoming grayling workshops that many of you inquired about I am running this on my own on the 4th and 5th January 2020 and in conjunction with Fred Bainbridge on 12th January. Please get in touch with your preferred date. The sessions will take place on the River Teviot but where exactly will be determined nearer the time based on river conditions. I will look forward to seeing you there in the New Year.

Regards,

Jonathan.
---