Old Friends and New Rivers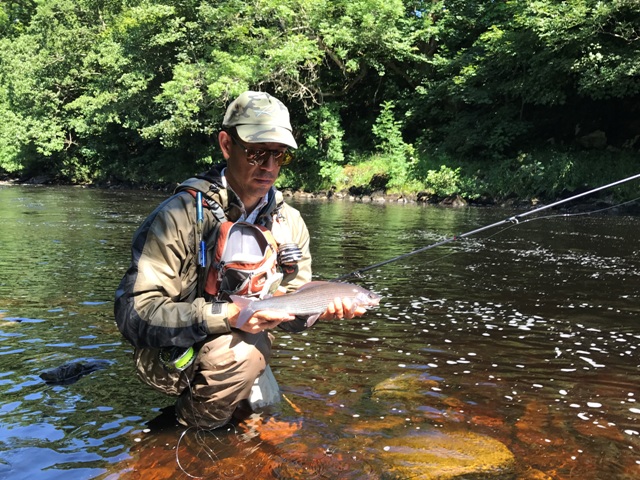 Peri with a nice grayling caught double nymphing
---
I was delighted to welcome Perikles Karageorgopolis, herein referred to as the far more anglo friendly Peri, to Riverview last weekend. Peri was my first ever fly fishing student. I remember him almost 15 years ago gasping in dismay when I dropped a dry fly on a rising fish which instantly accepted it. Followed by utter frustration and desperation as in his complete fly fishing infancy he was unable to cast the fly anywhere near any rising fish. He was a rapid learner. Soon we were hitting rivers everywhere and his skill particularly with nymphs was very obvious. He entered competitions and competed for the England Rivers Team twice winning Gold on both occasions. I like to take the perspective that I taught him very well! Peri was my fishing buddy for many years and would still be if he still lived in the area.
---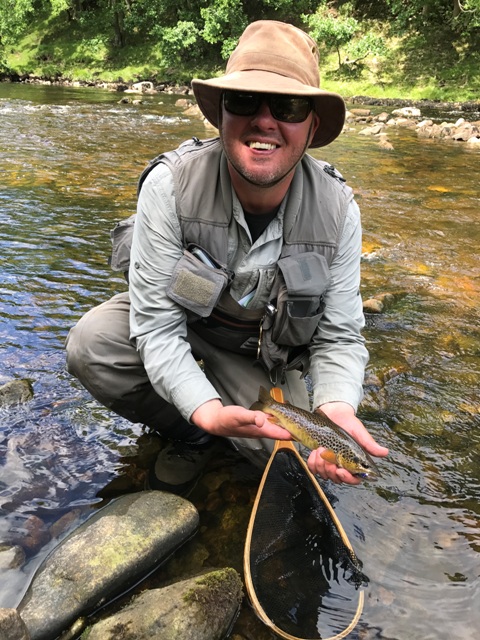 A nice Swale Brownie on a mini streamer
---
We first visited the upper Swale and fished a section we had never fished in bright Sunshine and a Dales river on its bones. We knew this would be a tough assignment. Dales rivers are notoriously tough when low- add in bright sunshine, high temperatures and it's a recipe for challenging fly fishing. I think if we knew how tough we would have tried elsewhere. Peri struck first after almost 2 hours fishing nymphs at range into fast riffles. Until this point we had hit pocket type water with duo and trio outfits. Then a rising fish came to my rescue and I got him on the soft hackle dry. After this the only success was from fishing a mini streamer into the deepest pockets in the hope of drawing an aggressive territorial strike from a brown. It worked as it often does. It never ceases to amaze me how fish will ignore nymphs but hit a streamer. Our new range of mini streamers (pictured being field tested) will be available in August. It is often surprising that many river anglers carry no streamer patterns either. With modern barbless hook damage often associated with this in the past is not a problem. Our mini streamers are tied on Hends 124 Barbless jig hooks. We ended the day on 6 fish each.
---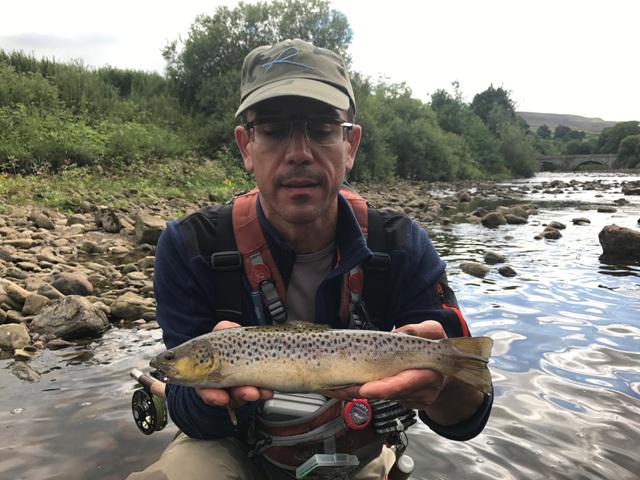 Peri with a grown on stocked fish from the River Swale also caught on the mini streamer. Note the growth on the tail which occurred as it naturalized into the river.
---
On the second day we fished a section of the Tees on club water. I fished double nymph style into riffles and caught trout and grayling consistently on fairly pressured water. Peri fished lighter on duo and trio outfits. Although we caught similar numbers of fish Peri had a larger proportion of smaller grayling compared to me with far more and much larger trout. This suggests that larger fish are moving into faster and deeper sections of river and are best targeted by direct contact nymphing styles.
---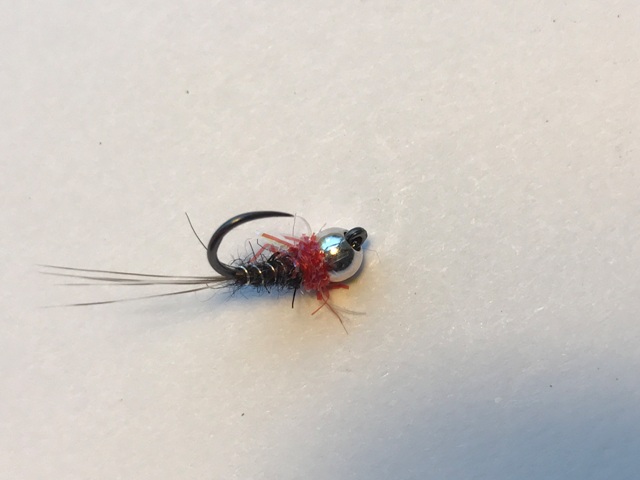 The RBS nymph-out August 2017
---
A method of old was referred to as upstream worming. A worm with lead shot was flicked on a fly rod 2-3 rod lengths into fast flowing riffles knee deep? If it sounds familiar it should. This is indeed just a double nymphing technique with a cruder and perhaps more effective end rig. The key to this technique was early morning in the dog days of summer. The take home message here is when those long hot days arrive (wishful thinking on 23rd July , 14 Celsius and raining hard), get out early and late and find those deeper faster flowing pockets. Our new Dynamic nymphing range of nymphs is out in August and have been extensively field tested and designed based on competition nymphs of the top anglers. See the products page river nymphs for more information on these great catching flies perfect for double nymphing styles.

Regards Jonathan
---