The Evolution of a fly. The soft hackle dry fly.
We were e-mailed by an accomplished Canadian fly tier of considerable experience who told us I enjoy your videos...thanks! Your "jingler" has made it into my personal book of the best flies, worth tying and trying. We were also featured in a magazine article down under in Australia about exactly the same fly (see page 29). But that fly has evolved since the early days of its inception and that evolution has continued with our early season large dark olive patterns tied up recently.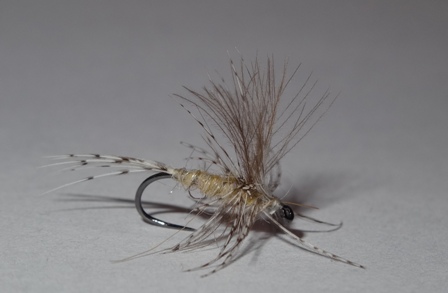 The soft hackle dry fly pictured is Onstream-guide's version of an old borders pattern called a jingler. The original Borders jingler has a hackle which combines a partridge feather with a red cock game feather. In our version we use a CdC wing to add profile to the fly. A high CdC wing is a big trigger for trout. Because of refraction (light bending as it hits the water) it is the first thing a trout sees when the natural fly enters its field of vision. If a fish is fooled by the high CdC wing it will rise to the fly. See a book by Vincent Marinaro called "In the Ring of the Rise" for an outstanding explanation of how trout see and feed on floating flies. Originally the legs were a genetic hackle and a partridge feather combined. However in tests the fly performed even better with just partridge as shown in our DVD. Here is a You tube clip of how effective the fly tied with partridge only is. This was filmed at the end of Summer when most of this water had been hard fished. But these browns still accepted the soft hackle dry fly.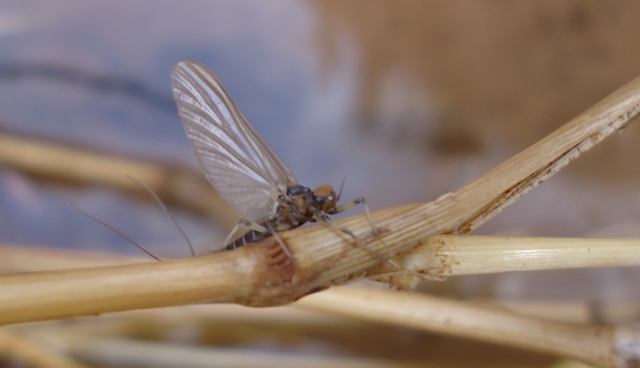 With the new trout season in touching distance early season trout rising to Large Dark Olives is an image etched on my mind. And so I started tying a few special soft hackle dry flies to imitate the large dark olive in both profile and footprint. The problem with using an English partridge is that even most of the small neck feathers still result in a profile that is too large for the natural size of a large dark olive. So in this case I used a Soft Jungle cock spade feathers.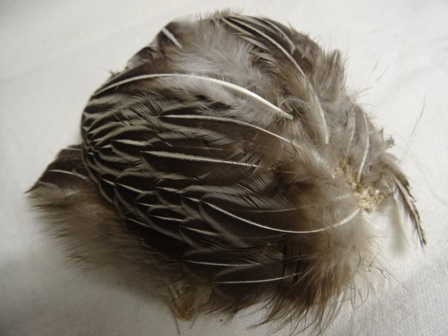 These soft feathers are perfect for spider patterns or soft hackle dry flies in the size 16 to 14 range.

We are very happy with the results and can't wait to try them out. For the tiers here is the link to the exclusive subscriber step by step of the soft hackle large dark olive pattern. Those of you who I'm guiding in April will get to try them out very soon.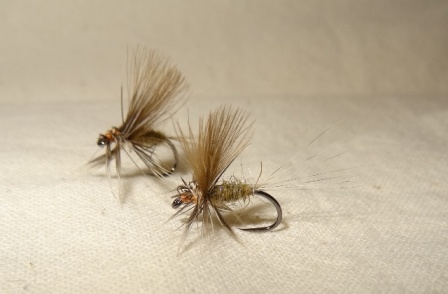 Other versions of practicing with CdC dry fly patterns include using a stripped peacock quill body as a dry fly body. The striation pattern that this quill imparts makes flies appear not only appealing but also natural to wild trout. We use it on a variety of Onstream-guide patterns including the emerger, plover spider, plover nymph and the rainbow nymph. The stripped polish quill we use is hand stripped and therefore will not crack and split easily unlike chemically stripped peacock quill. It produces wonderful hard wearing flies and is available in natural, golden olive, yellow and fluo yellow (good in peaty dales rivers).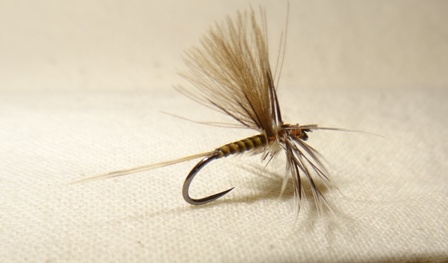 I hope all of you are also in early season mode ready to hit the river running. A full 6 months of wild trout fishing lies just ahead of us. Large dark olive dry fly patterns and the plover spider/nymph are my personal early season go to flies.

We will try and bring you some highlights of our early season endeavours on the You Tube Channel

Best Wishes Jonathan and Nellie.