The Trout season cometh!
---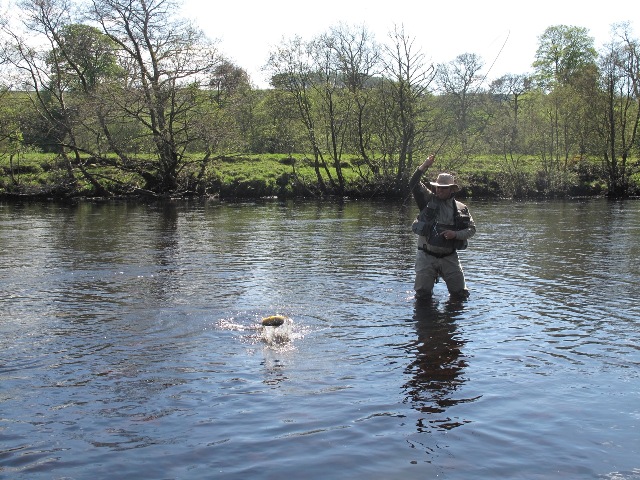 ---
From some date in March to some date in April most of us will be legally entitled to start pursuing Salmo trutta, our native wild brown trout in our streams, here in the UK. To those of us that need to pursue trout like a heroin addict needs his drug, this will be a much needed relief. Of course as usual most of us will start much too early in the season, including myself. If the weather is clement I will venture over to Cumbria where the season opens on the 15th March. Such is the need to end the cabin fever and I would say in a typical year my desire to get my vintage Sage 389 LL ready for dry fly action but this year has been exceptional already.
---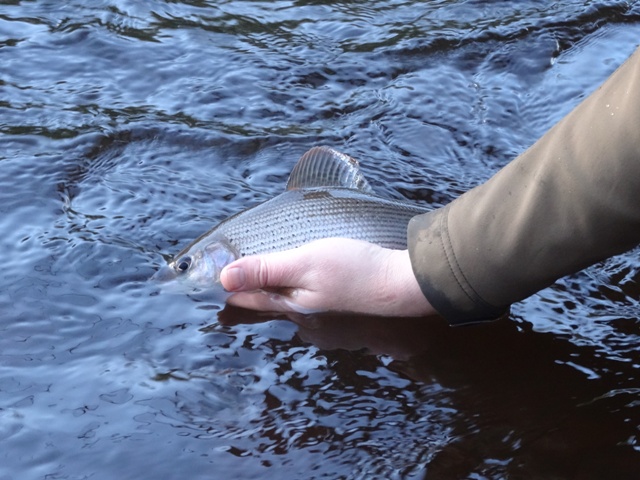 ---
Yes we have had some great weather in mid to late February which saw me with a double figure catch of grayling on dry flies. The temperature reached 16 degrees Celsius (that's 61 Fahrenheit in US terms) in the North of England and in bright sunshine and windless days it was wonderful. A section of the Tees with a dependable midge hatch did the rest. The fly in Winter for grayling the ever reliable Griffiths gnat in 18's and 20's. The weather was so good that a few large dark olive sentinels put in an appearance and some better fish moved to these. The fly for the LDO is the Onstream Guide MTH olive in size 14 or the ever reliable soft hackle dry.
---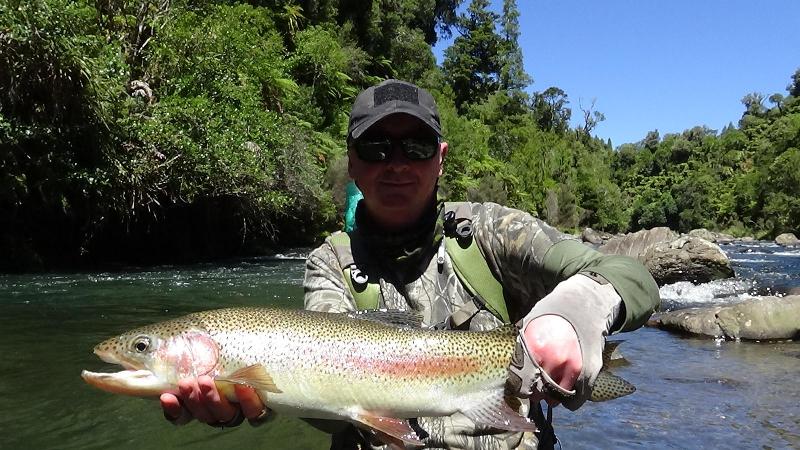 ---
Onstream-guide fly patterns have been responsible for some impressive catches. This is a superb rainbow caught in New Zealand by Darren Woodmass using the new silver beaded dynamic nymphs (P and O and UV flash Caddis). Good trout flies are universal and flies that can catch our elusive wild browns will catch trout in any stream in the World.
---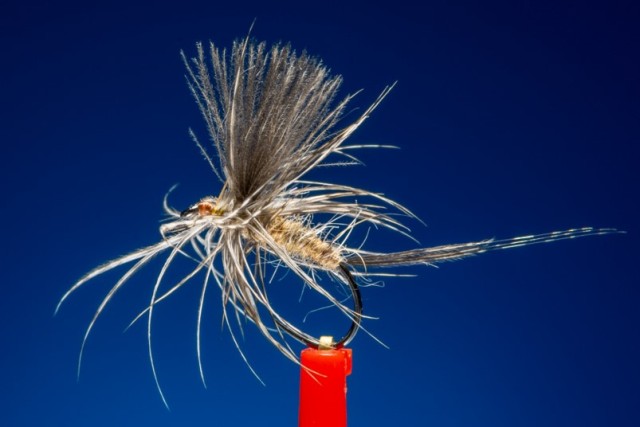 ---
We are increasing our range this year. If you want the ultimate soft hackle dry we now have the full range of products to tie them. First the Maruto DO4 HW size 14 (HW = heavy weight). If you held a gun to my head and said only use a single hook for the rest of your fly fishing career I would choose this one! The perfect size and gape in my honest opinion, a great fish holder and the heavyweight version is strong enough for dry flies like the soft hackle dries or beaded nymphs or even mini streamers. These are superb value and we have held the cost to you despite a 20% increase in wholesale costs due to currency devaluation.
---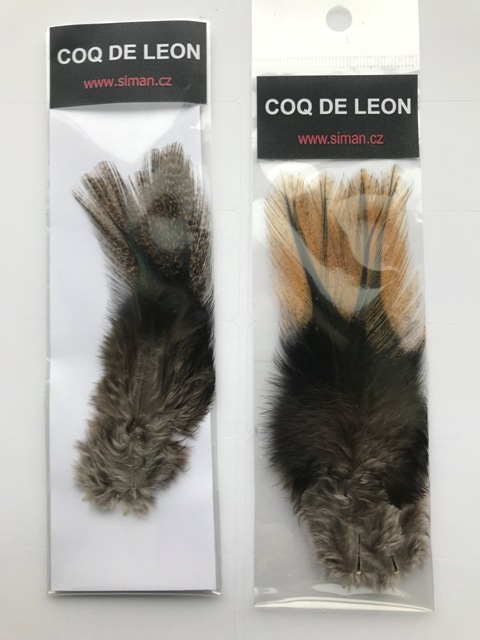 ---
To tie the perfect soft hackle dry the perfect tailing material is the reassuringly expensive Coq de Leon. We now have a limited stock of superb Coq de Leon courtesy of Jan Siman used to tie the ultimate soft hackle dries. As with all natural products with high demand and low supply the cost is not cheap. However at £7 it is not that expensive either considering you will probably get enough tailing for 250 plus dry flies. Couple this with UV hares ear natural numbers 1 and 2 and a couple of CdC feathers with a nice partridge neck feather and you are on the way to an all round great fish catching dry fly that will work from the first day of the season to the last.
---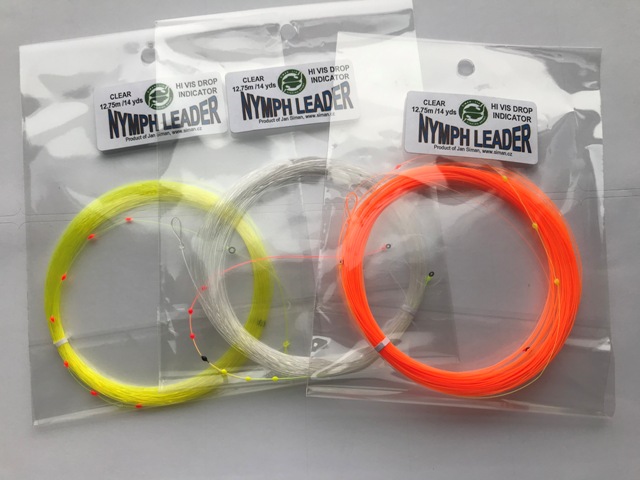 ---
Importantly the much requested UV black hares ear (as used in the black magic nymph) is back in stock and we have a new range of funky coloured French Leaders. Not as gimmicky as they first appear and the hi viz orange is great if like my mate Fred Bainbridge you want to nymph until the first stars start appearing.

I use one of the golden coloured leaders myself because I can just pick it out better in normal conditions and it is still subtle enough to be completely unnoticed by the fish. These leaders from the Czech Republic come with an inbuilt bead sighter which I find excellent! However guiding has taught me that not all of us have eagle like vision so we have some nice fluro orange indicators for those of us over 50 with failing vision. We also have some subtle light furled indicators for those light nymphing low flow summer days. Don't forget your round profile titanium tippet rings if you make up your own indicators.

I am crossing my fingers for a return of that uncanny weather in February for the start of the trout season. My advice to those as keen as me is not to get to the river at 9.00 am and start nymphing. Those lovely nymphing runs that you caught those nice browns in last year are yet to hold fish. The trout still waking from their winter malaise will often be in dead water. The most effective way of catching early season is on dry fly. I can say that with a degree of certainty after winning the Ure qualifier last year (19 competitors) using dry fly against 18 nymph fisherman! Arrive at the river at mid day early season and look for hatching flies and those tell tale rise forms. You might only get 2-3 chances and early season you might be a bit rusty so it is certainly challenging but that's why we love river fly fishing.

This year after a double stint in the English Rivers Team in the previous 2 years I am back full time guiding. Please get in touch if you would like to spend a day with myself, a triple English Rivers International and former National Rivers champion. I guide on the stunning upper Tees in an area of outstanding natural beauty for 100% wild fish.
---
Regards,
Jonathan.
---