A Mecca for river fly fishermen? Fly fishing in British Columbia and Alberta for Wild trout and mountain whitefish.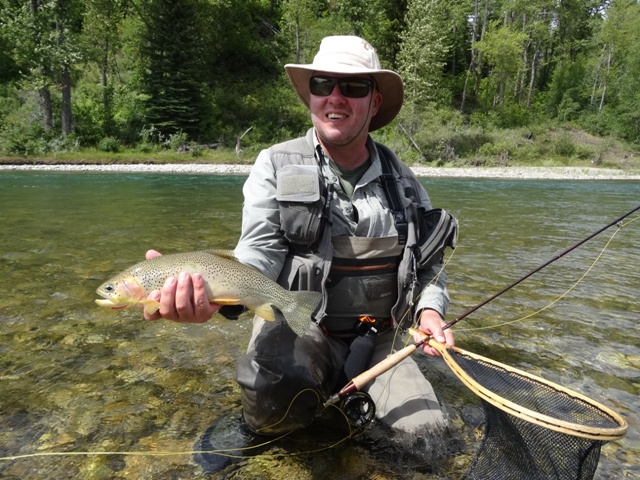 The iconic cutthroat trout. Note orange/red slash under chin.
There are places on the planet that might be perfect for fly caught large wild specimen fish . Other places might contain ravenous scores of smaller trout. The first can be soul destroying if you can only find a fish or two to cast a fly in anger at. Catching many fish is fun only if it involves an element of challenge. We wouldn't be reading this otherwise and we would all be bait drowning varmin. There is a place where an impressive diversity of trout, with an impressive size (notwithstanding the diminutive but very pretty brook trout) can be caught in a variety of river environments. The trout include rainbows, browns, native cutthroats, cutbows (a hybrid of cutthroat/rainbow origin), Bulls and the above mentioned brook trout. Most rivers also contain the nymph loving Rocky Mountain whitefish often referred to as "Rockies". Think of a grayling crossed with a barbel with the power of the latter. This diversity ensures that somewhere in those thousands of miles of wild streams there are fish to be taken on a fly.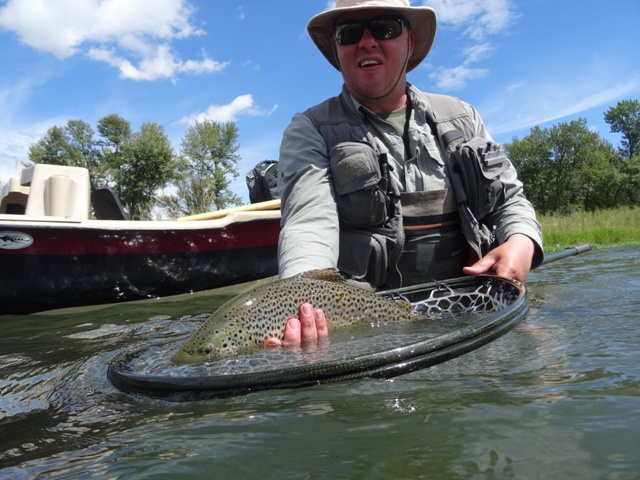 Our only brown trout of the trip
Our first encounter after landing in Calgary (direct flight from Manchester) was the famous Bow river a blue ribbon trout stream. This means it is nationally identified by Government as a recreational fishery of extremely high quality. The Bow downstream of Calgary contains 2500 trout per mile. Average size is from 15" - 22", with fish in the mid-twenties caught daily. This is a big river and we floated it (used a guide and a drift boat combined). 5 weight outfits were the order of the day coupled with floating lines. There are 2 ways of floating a river. All in the boat and fished from it entirely or punctuated with stops on nice looking gravel bars to fish walk and wade style. We opted for the latter. On our first stop I had my first encounter with a "bullet bow". A local name for Bow river rainbows revered because they originate from Steelhead. It quickly became evident why as my first rainbow hooked on a streamer whizzed me into the backing on the first run. It then got downstream of me in a fast current all the time my broomstick like Loomis was bent to the butt. Almost 5 minutes later the guide slipped the net under a fish of around 3 lb. A good but unremarkable fish for the Bow river. My arm muscles needed recovery. I was literally shaking and a bit confused. How could that fish be so small? It fought like the biggest and toughest rainbow I'd ever caught! Streamers were the order of the day because the river was high and coloured. This meant we didn't get chance to chuck out a dry fly. However after a stop on a nice looking gravel bar with a good looking nymphing piece of water attached I decided to try the nymphs. This proved to be a good decision and on the third cast hooked and landed our only brown trout of the trip (pictured). It was again a good fish without being spectacular. It took the ever reliable flash back caddis. We caught many wild rainbows on that float and perhaps the most interesting method we used was thunder worming, a bastardised form of Czech nymphing. The guide used only bright red hooks (sold that way) so no fly at all. A few heavy split shot were added to the end of the line and this outfit was bounced off the bottom as the boat slowly progressed downstream. It proved to be a very effective way of catching rainbows and more fun than stripping streamers which can get tedious. At the end of the day we were tired and satisfied.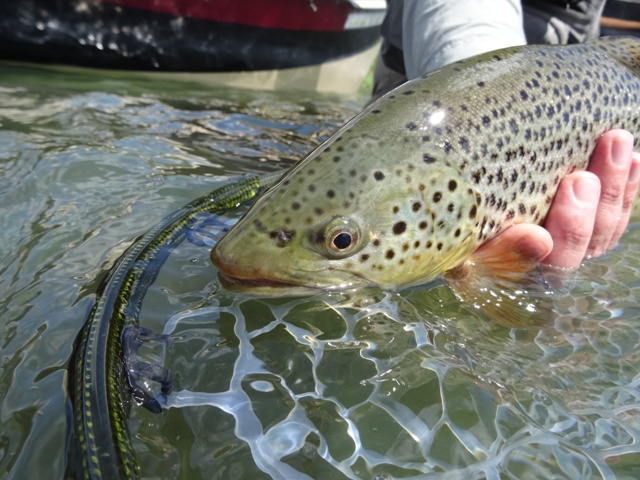 The next day we were travelling to British Columbia for an encounter with the West slope Cutthroat trout on the Elk river a fish that became iconic for the whole trip. Before then we had a brief stop at Cataract creek, a brook trout stream. Brook trout here are rather small (a ten inch fish is specimen) but willing. It was the perfect antidote to the previous days pulling and fighting and a chance to get the 3 weights out. It was also our first venture into bear country so we were prepared with our bear spray, a concoction based on pepper spray which deters a potential attacking bear. We caught and photographed many pretty brook trout before continuing to the Livingstone river along Alberta's infamous Forestry trunk road referred to as Alberta's trout Highway. Here I caught our first cutthroat trout of the trip although this would later be dwarfed by the fish in British Colombia on the Elk river.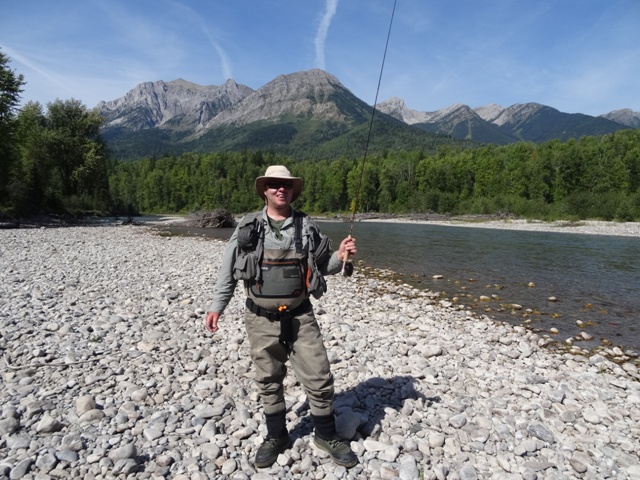 Armed with bear spray and ready for the Elk river
Our first day in British Colombia dawned bright and Sunny. We opted to fish a stretch of the Elk river between Sparwood and Fernie by walking and wading. Float guides are available and based in Fernie a local Mountain Town. The scenery was quite simply breathtaking and we often stopped fishing and simply looked around in awe. And the Cutthroat trout were simply awesome. They are not quite as naive as some might lead others to believe. The cutthroats receive angling pressure on a daily basis from numerous guided float boats. However I would be lying if I said the fishing wasn't easy- compared with fishing for spooky and moody brown trout in the Freestone rivers of Great Britain it was very easy even if we had to revert to "cheating". This was what a local guide we met in Fernie referred to as nymphing. Ironically my first Elk River Cutthroat trout took the Onstream-guide Elk hair caddis as did the one pictured.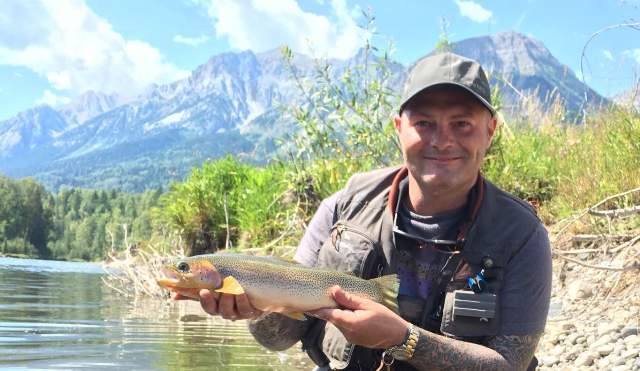 I have several memories from those 6 days on the Elk river that I will take to my grave. The first is a sublime period of dry fly fishing. One afternoon the typical bright sunshine was replaced by a grey but non threatening looking sky. Typical mountain conditions and we were in middle of the Rockies. With low or no wind a grey sky, falling fining river we were at the right place at the right time. I used the ever reliable soft hackle dry fly. The pool was a long gravel run (over 150 metres) with water of the perfect depth and pace. It contained a good number of good sized cutthroat trout. Dry fly perfection is something like I witnessed here. With a 5/6 weight furled leader I could achieve long drag free drifts exacerbated by currents that slowed progressively towards the rod. Almost every time an event like this followed. A large trout would come into view in the crystal clear water rise as if in slow motion under the fly and casually intercept it in an almost dream like sequence. Every time I lifted the rod in response I was attached to a stunning pristine wild fish of two pounds or more in weight which after a spirited effort in fast currents came to my hand/net in a couple of minutes or less. I was using 3X tippet and a very fast Loomis 5 weight rod. This is a barbless single hook fishery only so fast catch and release is the order of the day. On every cast the fly seemed to follow the perfect line. I repeated this sequence about 20 times in a 2 and a half hour period. Then I stopped. I could have caught more fish but I didn't need to. The second was a nymphing run where I used a gold beaded polyphaetis or a black magic. I caught on every cast and the fish got progressively bigger. Watching an Osprey dive and take a 2 pound cutthroat and carry it over my head was another moment to remember.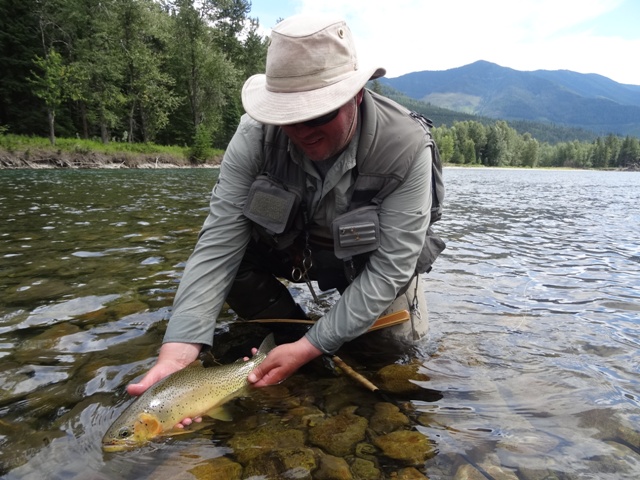 Returning a dry fly caught cutthroat trout
On the way back we fished the Crowsnest river. We stopped at Vic Bergman's Crowsnest Angler and got some great advice on where to fish. Fishing the Crowsnest river was unremarkable because it was a small stream on its bones, in hot conditions (air temperatures around 30 Celsius) except I did get one spectacular rainbow (pictured) which is without doubt the prettiest rainbow trout I have ever seen. I caught it on a gold beaded Polyphaetis Size 10 above Frank Slide.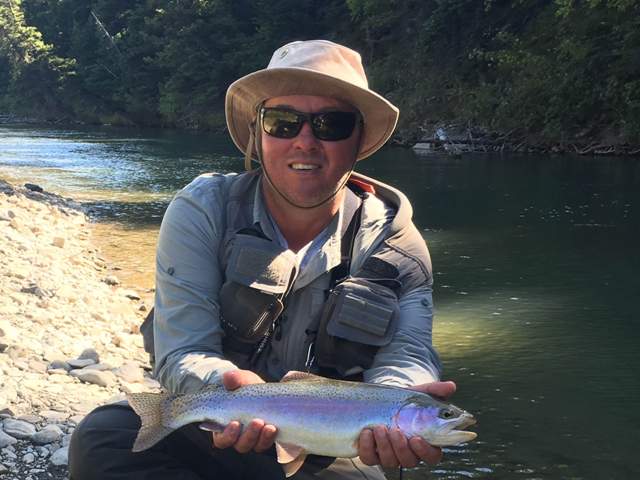 The next few months these images will make their way on to the website as we revamp it over the Winter months. All our flies including the soft hackle dry flies are back in stock.
Regards,
Jonathan and Nellie.