---
Dry Flies
---
The Deadly Duo dry fly!
The Life Jacket Elk Hair Caddis

An Onstream-guide classic. This fly ticks all the boxes as a super buoyant dry fly.   This fly is perfect for use in the technique known as duo (suspending a nymph under a dry fly).  It is based on Al Troths legendary Elk hair caddis but with modifications to make it even more buoyant.  
The under body  is comprised of Tiemco Aero Dry Wing a polypropylene wing material that is lighter than water and non-absorbent.  This acts to trap air and repel water.  The body dubbing is Doug Swisher's water hating Gekko hair.  The hook is the Maruto DO4 12 Heavyweight.  Capable of handling double figure rainbows and the fly can suspend a couple of buzzers all day long!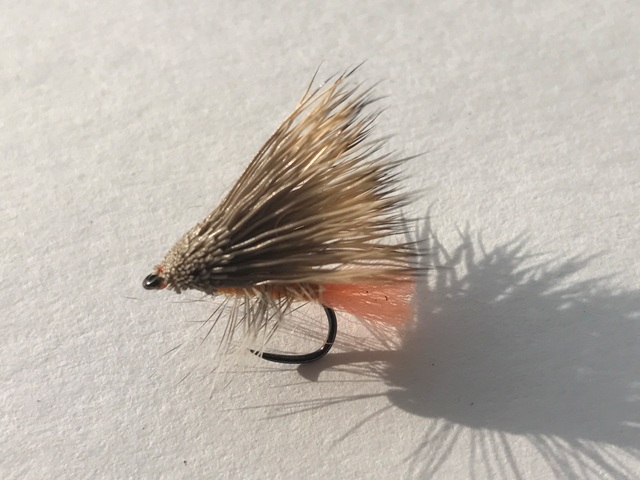 A palmered whiting genetic hackle acts to massively increase the fly's floatability by increasing surface tension effects.  Finally a generous pinch of premium yearling Elk hair is added to form the familiar tent shaped wing.  The result is a compact fly that casts easily, floats like a cork, acts as a perfect indicator and takes many fish.  See the You Tube video Pocket water tactics for more information.  Now with extra high quality premium Elk hair. 

  Tied on a heavy weight Maruto D04 HW hook.  Available in size 12 only. £2.25 per fly.

---
25 inch plus wild rainbow trout taken on the Life Jacket Caddis.  Bow River, Calgary September 2017

---
Life Jacket Elk Hair Caddis Light


A smaller more subtle version of the popular Onstream-guide Life Jacket Elk hair caddis.  This is a great fly for shy hard fished brownies fished into pocket water and streams.  The fly is tied with the same super buoyant materials meaning it can be used to support small nymphs.  Although the hook is a heavy weight barbless Maruto D04 HW size 14, it is considerably smaller than the original. 


£2.00 per fly.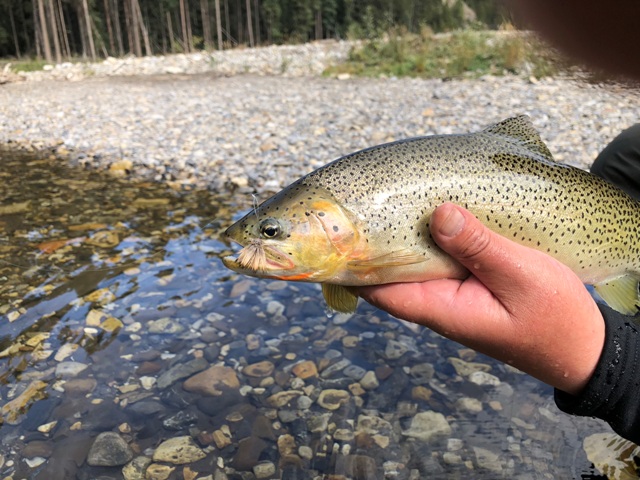 ---
Soft Hackle Dry Fly
An onstream-guide classic I developed this fly decades ago as an attempt to develop the old borders pattern the Jingler.  This is my go to search and find fly and nothing has been more effective for me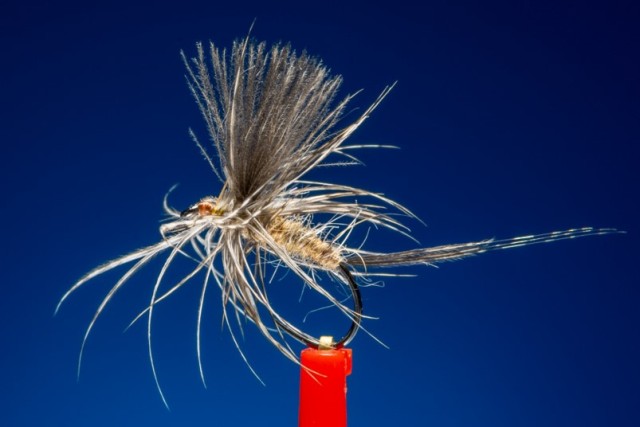 After a few fish the fly can look very bedraggled but this usually increases its effectiveness!

Soft hackle flies are usually wet flies or spiders. However the same inherent qualities work equally well on a surface fly.  This fly has the perfect footprint, profile and is very attractive even to selective trout.  A fly that is always on my dry fly tippet. A revelation!  Used by International Anglers.

£1.75 per fly tied on a high quality Japanese  Maruto D04 BL hook size14.
---
Elk River Cutthroat Trout on the reliable Soft Hackle Dry Fly

---
The 'F' Terrestrial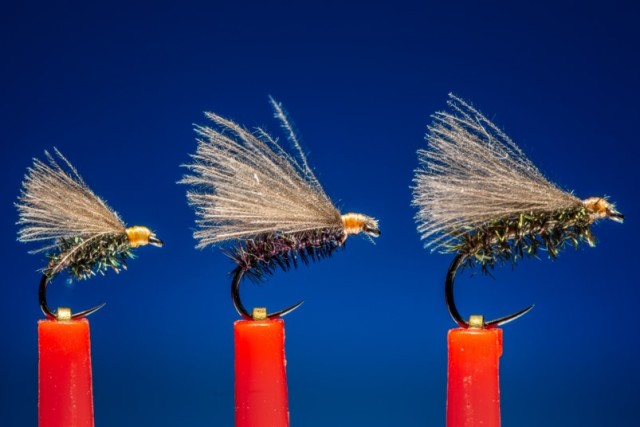 Perhaps the best all round dry fly and one that will work from the first to last day of the trout season.  Based on Fratniks famous "F" fly this terrestrial version represents everything from beetles to tiny black merde. Trout eat a lot of terrestrial insects and this accounts for the great success of this pattern.




The "F" terrestrial in size 16 is a great search and find fly in Summer and does a great job of imitating stone flies like willow fly.


Tied on one of the best barbeless Japanese Maruto D04 BL dry fly hooks and available in sizes 16 to tiny size 20.


£1.50 per fly.  Select size from drop-down menu.
---
Griffiths gnat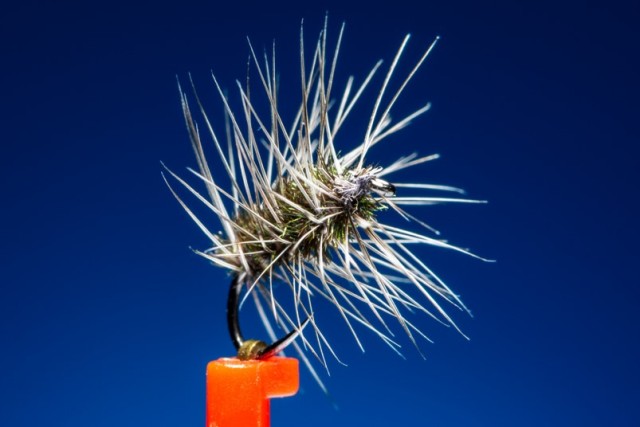 The long helicon days of summer often bring fish to the surface feeding on "owt or nowt".  No obvious mayfly or aquatic species is hatching.  On days when even the usually reliable "F" terrestrial doesn't work the Griffiths gnat usually will.  A palmered hackled fly it does a fantastic job of imitating a whole range of tiny winged insects that become part of the surface film.  A great summer evening and all round grayling fly.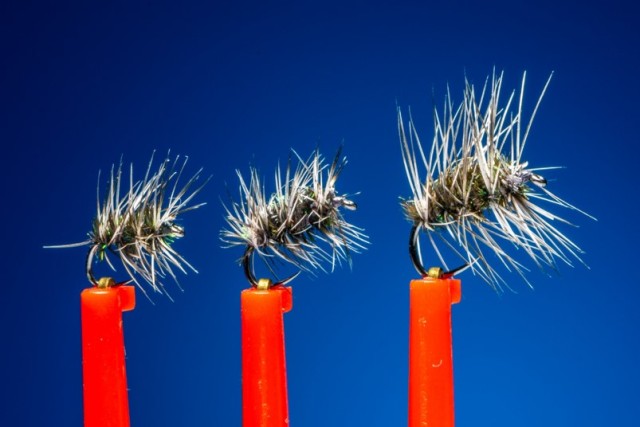 Tied on the highest quality Japanese barbless Maruto  D04 BL hooks and vailable in 3 sizes (16, 18 & 20). £1.30 per fly only!
Onstream-Guide

Match The Hatch

Dry Flies



First choice early season Dark Olive hatch fly (Trout pictured 2nd day of the season) and fantasic all round Pale Watery.   Available in 3 sizes; 14, 16 and 18.  Flies are tied with nano silk on the highest quality Japanese barbless Maruto D04 BL hooks.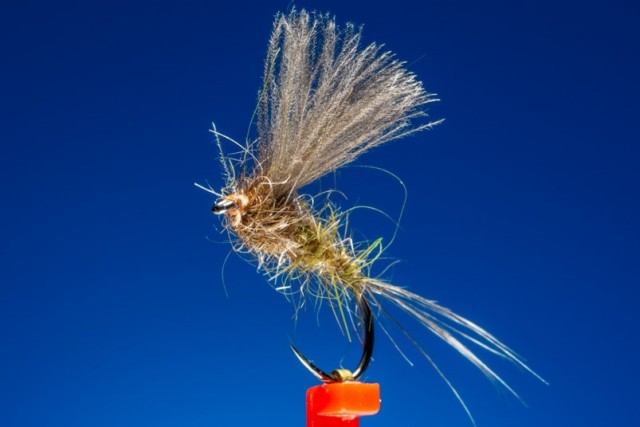 £1.50 per fly.   Select size from drop-down menu.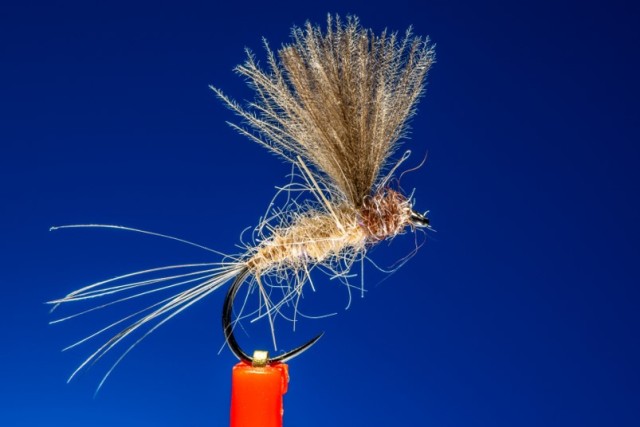 | | |
| --- | --- |
| Match the Hatch Dark Olive | Match the Hatch Pale watery |
The O.G. Emerger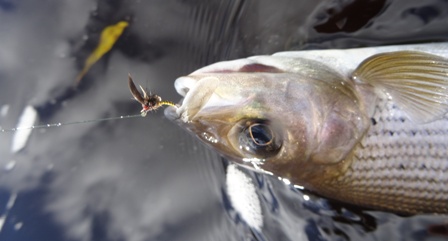 The widely used and ever popular Klinkhammer is testimony to the effectiveness of emerger fly patterns.  The onstream-guide or O.G. emerger is about as deadly as a fly pattern can be.  It represents any emerging aquatic insect from a midge to a mayfly or caddis.  The stripped quill body is undoubtedly a trigger for both trout and especially grayling.  Grayling in particular just can't resist that poor trapped insect dangling in the surface film and even when natural insects are abundant they will select this fly.  It works from the first day of the trout season until the last mild days in November when a few grayling may still rise.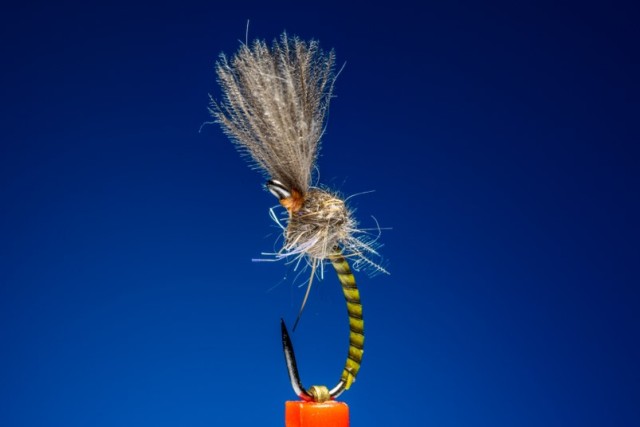 With excellent penetration this fly can be fished all over the river pool from the head to the tail.  The fly is tied unvarnished.  If fishing for trout a coat of hard as nails or similar over the quill body is advised.
£1.50 per Fly.

Tied on a superb Japanese barbless hook Hends BL550 and available in size 16.
Spiders or Soft Hackles
Few traditional patterns have withstood the passage of time like North Country Spiders or Soft Hackles to our visitors from over the pond.  These flies work based on the principle of movement and a slim delicate profile that fish find irresistible.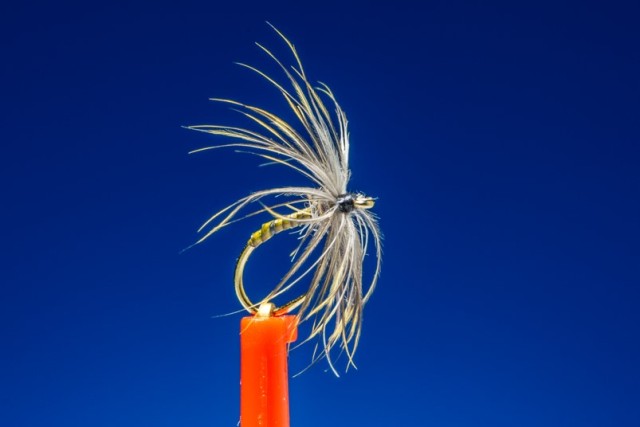 The hares lug, quill and plover spider or nymph illustrated is one of my greatest catching flies based on the traditional hare's ear and plover.  The addition of a quill body makes the fly even more attractive and the golden plover hackle is a rare, delicate and beautiful addition with superb contrast and movement.
Spider patterns are versatile and can be fished in many ways not just the down and across or across and down methods.  Add ghink to fish the spider as a dry where it gives a superb impression of a vulnerable trapped emerger.  The great spider fishers of the past like W.C. Stewart in the Practical Angler insisted that spiders should be fished upstream and submerged.  The hare's lug, quill and plover spider can be fished with success using all these methods and is particularly effective in a hatch of olives. Available on size 14 or 16 barbless Grab gape hooks. A great early season pattern on a great spider hook! SOLD OUT!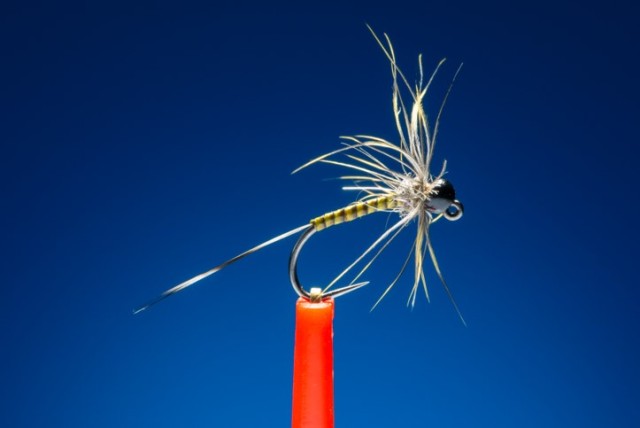 The nymph version of the hare's lug, quill and plover can be  added to a team of spiders to take them sub surface when fishing across and down or used as a duo nymph where it is a superb catching fly. It features a 2mm copper diamond faceted tungsten bead and is tied on a size 16 jig Hends BL120 hook. Only £1.75 per fly. Please add to cart.

Fly Selection Boxes
The Onstream-Guide Fly Selection Boxes offer excellent value for money for premium river flies and include the silicon insert fly boxes free of charge.  The fly boxes can be purchased separately below.  These fly compilations are proven favourite flies that have worked in every stream we have ever fished all over the world.
Dry Fly Selection Box includes:

MTH Dark Olive size 14, 16, 18 x 3
MTH Pale Watery size 14,16,18 x 3
'F' Terrestrial size 16, 18 x 3
Soft Hackle dry fly x 3
Onstream-guide Emerger x 3

Griffiths gnat size 16 & 18 x 3
2 Lifejacket Caddis

38 Flies in total.  These are all proven river dry fly patterns that feature in our DVD.  Simply ghink the body of the fly and fish for great results. All flies are tied on top quality Maruto barbless japanese hooks for excellent holding power and fast and easy catch and release.  Presented in a lightweight box with high clearance to prevent compression of the high CdC wing. Purchased separately these flies would cost £56.20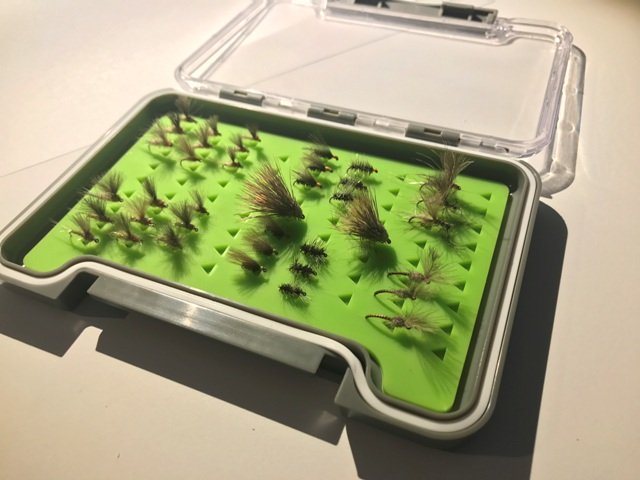 Only £55 presented in a silicon insert fly box

For more Fly Selection Boxes please click here.

Fly Boxes
Silicon insert fly boxes are a boon to the river fly fisher and hold a variety of sizes firmly

Only £7.49


Tiny clear plastic boxes

Excellent for your hooks, beads & flies. Measurements 4.5 x 3.5 x 1 cm.  Set of 3 boxes for only £1.

---
OnStream-Guide PRODUCTS


FLY TYING MATERIALS


LEADERS


FLIES


TENKARA OUTFIT


DVDS and E-BOOKS


ACCESSORIES


FLY BOXES


GIFT VOUCHERS