---
Fly Selection Boxes
---
The New now updated  (November 2019) Onstream-Guide Fly Selection Boxes offer excellent value for money for premium river flies and include the silicon insert fly box free of charge.  The  fly box can be purchased separately below.  These fly compilations are proven favourite flies that have worked in every stream we have ever fished all over the world.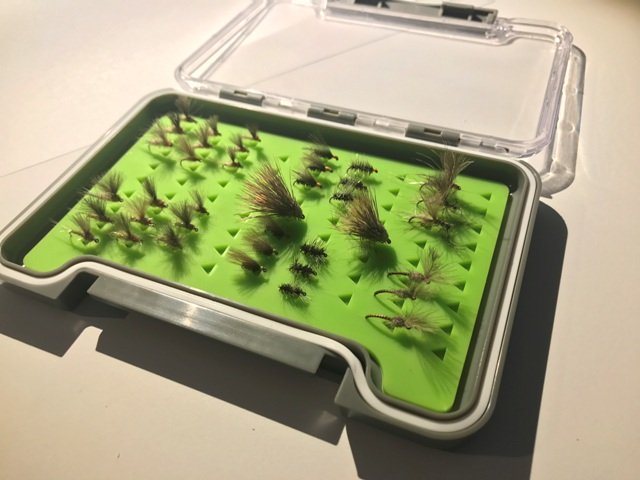 Dry Fly Selection Box includes:
MTH Dark Olive size 14, 16, 18 x 3
MTH Pale Watery size 14,16,18 x 3
'F' Terrestrial size 16, 18 x 3
Soft Hackle dry fly x 3
Onstream-guide Emerger x 3

Griffiths gnat size 16 & 18 x 3
Lifejacket Caddis standard and light

38 Flies in total.  These are all proven river dry fly patterns that feature in our DVD.  Simply ghink the body of the fly and fish for great results. All flies are tied on top quality Maruto barbless japanese hooks for excellent holding power and fast and easy catch and release.  Presented in a silicone insert box with high clearance to prevent compression of the high CdC wing. Purchased separately these flies would cost £57.50.
Only £55

---
Duo Selection Box includes:
A selection of small nymphs tied with 2mm tungsten beads and top quality japanese hooks Hends - Hare's ears nymphs and other proven catching flies.

It also includes:
3

Life Jacket Elk hair caddis  duo fly for use as an indicator which catches fish!

3

Life Jacket Elk hair caddis Light duo fly for use as an indicator which catches fish!

Great all round nymphs that are proven fish catchers and cover most eventualities:
Hot spot pheasant tail nymph x 6

Black Magic nymph size 16, 2mm bead x 6
Plover nymph x 6
48 flies in total.   Purchased separately these flies would cost £76.50.
Only £75

---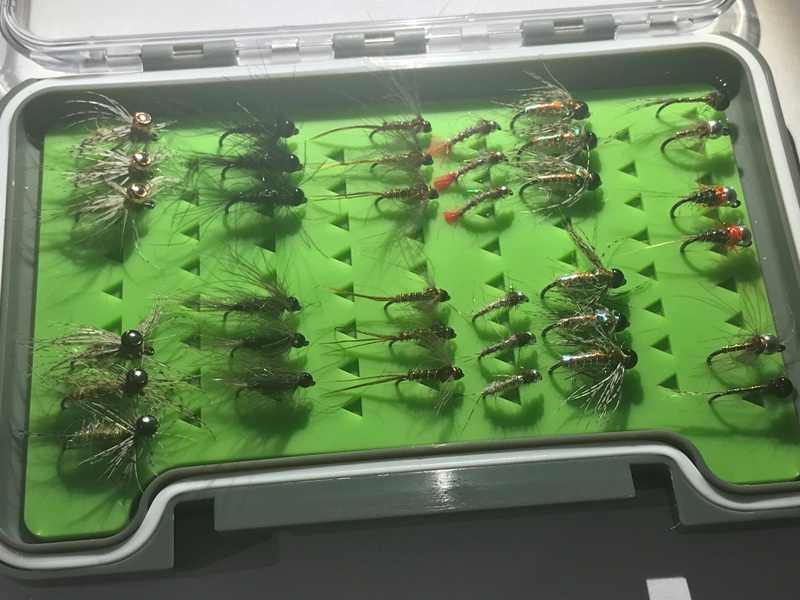 ---
Nymph Selection Box
A selection of generally heavier nymphs with tungsten beads designed for modern techniques like Czech nymphing. They will also work very well fished upstream under an indicator or for high sticking.
Polyphaets

size  12 x 3

Black Magic nymph

size 14, 12 x 6

Flash Back caddis size 12,  x 6

Hotspot Pheasant tail nymph x 6

Hare's ears nymph

size 14 x 6

Dynamic nymph x6

---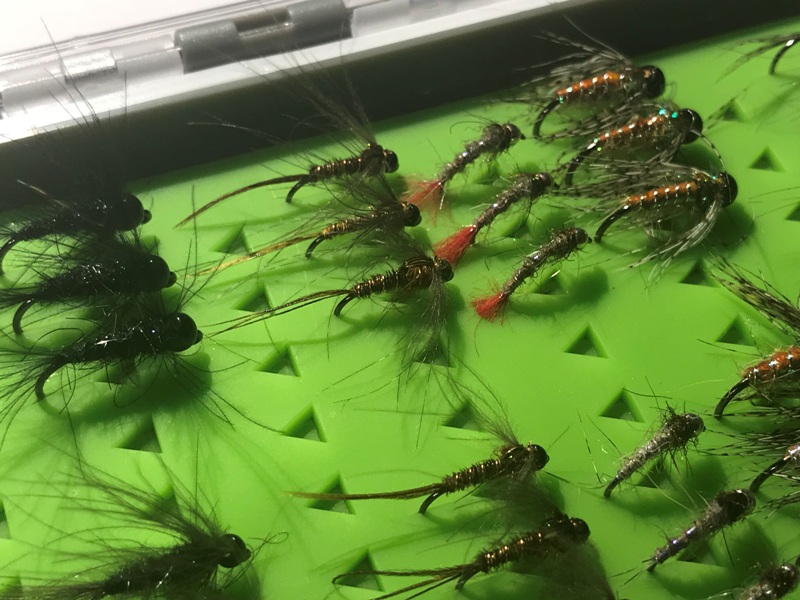 Total 36 flies. This is a great selection of flies with proven track record.  The flies are presented in a superb small tough clear fly box. Bought separately these flies would cost almost £70. 
                                                                               Only £53
Fly Boxes
The fly boxes shown below are designed to fit into most pockets.  
Our new silicon insert fly boxes are a perfect blend of style and functionality.  After you use a silicon insert fly box you will never go to a conventional foam one.  They hold hooks of all sizes very firmly. I have personally tested the fly boxes and I think they are superb. Great value at £7.49 or free with fly selections above. Sold Out


Tiny clear plastic boxes

Excellent for your hooks, beads & flies. Measurements 4.5 x 3.5 x 1 cm. SOLD OUT  Set of 3 boxes for only £1.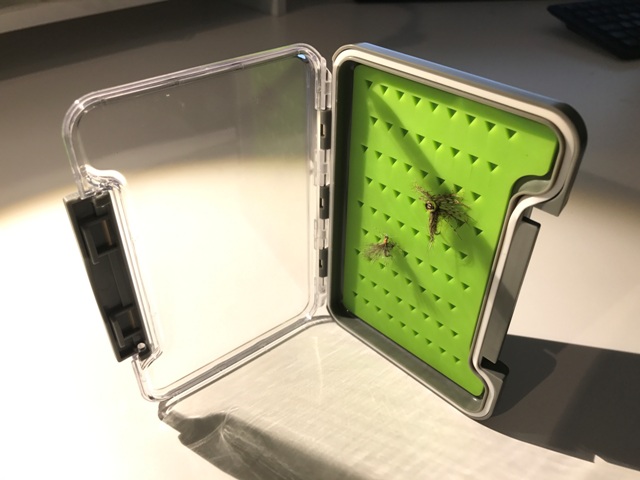 ---
OnStream-Guide PRODUCTS


FLY TYING MATERIALS


LEADERS


FLIES


TENKARA OUTFIT


DVDS and E-BOOKS


ACCESSORIES


FLY BOXES


GIFT VOUCHERS